The PlayStation 5 was released in November of 2020. As of October 2021, it's sold a whopping 13.4 million consoles [1].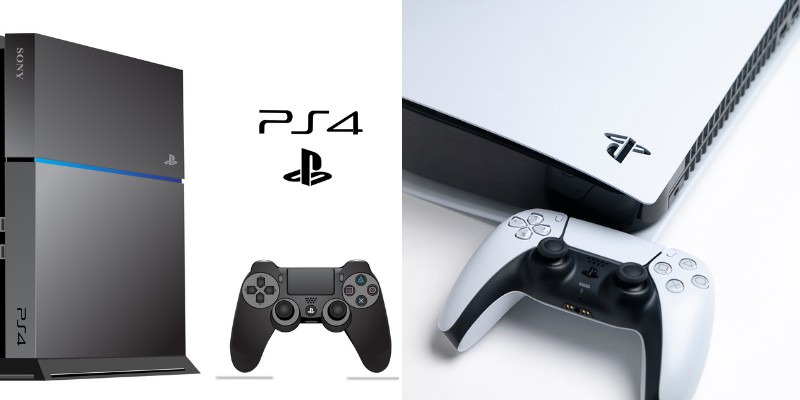 What's even more impressive is that Sony cannot keep these consoles in stock. Many gaming enthusiasts have been trying to get one since launch and haven't been able to because of shortages caused by the pandemic.
If you manage to get your hands on one, consider yourself lucky. However, if you are thinking about whether or not it's worth the effort, you aren't alone.
In this article, you will learn about some of the pros and cons of selling your PS4 console to get a PS5.
Pros of Selling PS4 for PS5:
1. Serious Hardware Upgrade
One of the major reasons to go ahead and sell your PS4 console for a new PS5 has to do with the hardware upgrade it delivers.
The difference between the PS5 hardware and even the PS4 Pro is significant. The console is not only capable of playing more graphically intensive games, but it's capable of running them at faster framerates and it significantly reduces loading times.
Loading times are a big annoyance in the PS4 consoles. With games getting more expansive and graphically intensive than ever, you can find yourself spending more time loading screens than playing a game.
The PS5 is capable of achieving blazing fast loading times because it features an 825GB SSD. The previous consoles didn't have an SSD which meant long loading times by default.
The PS5 was able to cut down the loading times by as much as 50% for some popular and demanding titles [2].
You can get even more impressive loading times for more games if you need expanded storage by installing a blazing fast M.2 drive into your PS5.
2. Better Controller
Believe it or not, but one of the major upgrades the PS5 delivers is a feature-packed controller. Sony spent a lot of money on research and development for the new Dual Sense controller.
It's packed with an impressive array of features and a lot of technology. It's the most feature-packed next-generation controller on the market.
To buy this controller alone, you would need to pay $69.99 MSRP. As you can tell, it's an expensive controller. However, it comes with Sony's new proprietary haptic feedback technology and adaptive triggers that make it more than worth it.
It's not full of gimmicks either. There is technology packed into the controller that developers are already utilizing so early in the generation.
Developers like Insomniac are finding ways to use the new technology to allow players to actively manage their primary and secondary fire functions and more.
3. Exclusive Titles
Another big reason to consider making the upgrade has to do with the exclusive titles that you will only find on the new generation console.
While Sony is doing an impressive job of supporting the previous generation PS4, that's not going to help if you want to play some of the new and exclusive titles like Spider-Man Miles Morales or Ratchet and Clank: Rift Apart.
There are only going to be more and more exclusive titles coming out that you will want to play. As someone that is a gaming enthusiast or a Sony fan, you're not going to want to miss out on some of these experiences.
Cons of Selling PS4 for PS5:
1. Cost and Availability
Two things are holding a lot of people back from making the upgrade. Unfortunately, the console costs a lot.
A lot of people won't get as much value out of the newer console for a few years into the new generation to justify the high cost of being an early adopter. Likewise, some people don't want to spend hours every day checking for restocks or trying to find a console that they can purchase.
2. You Need The Right Television or Monitor
If you don't have a true 4K television or monitor that can take advantage of the better graphics and higher frame rates, you're going to be missing out on a key benefit of upgrading.
If you have a 4K and 120hz television or monitor, you're going to see a major upgrade. However, if your television or monitor isn't capable of delivering 4K resolution or high frame rates, it's going to bottleneck your performance upgrades.
3. Your PS4 Is Still Being Supported
For a lot of people, they will continue to get a lot of value out of their PS4. The PS4 is expected to be supported for a few more years. Not only that, but the PS4 releases may even cost less.
If you are someone that doesn't like to upgrade when your current console supports all of your favourite titles, you're not going to want to make the transition yet.
Is It Worth It to Sell PS4 for PS5?
The truth is, there is no definitive answer to this question. For those that have a high-end television or monitor, there is clear justification for spending the money to upgrade.
After all, you're getting true-4K resolution and higher frame rates. For those without a high-end television or monitor, you're getting much less of an upgrade.
The only upgrades you'll notice are faster loading times and a better controller. At that point, you're only paying for the few exclusive titles that are available for the PS5. A PS5 is a major upgrade and not an interactive one, but not everyone will be positioned to get the most out of it just yet.
References:
[1] https://www.eurogamer.net/articles/2021-10-28-sony-has-now-sold-13-4m-playstation-5-consoles-worldwide
[2] https://www.tomsguide.com/news/ps5-vs-ps4-load-times-heres-how-much-faster-it-is