Forza Horizon 5 is one of the best-reviewed games of the year and one of the most exciting racing games to come out in quite some time.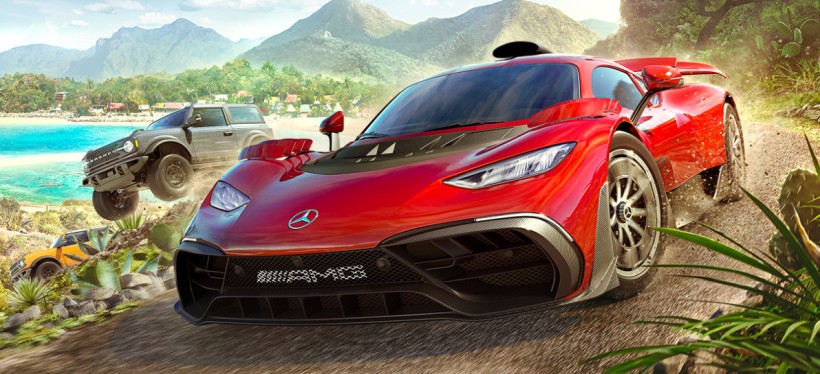 The fifth entry in the Horizon sub-series of Forza racing games, Horizon 5 allows players to race across Mexico, exploring, competing, and performing stunts as they go.
Before you get ready to hit the gas on this game, though, you might want to take some time to look at where and how the game can be played.
In this article we'll answer the questions that many gamers have whether Forza 5 can be played on PS4, PS5, XBOX, PC etc, so let's see if this game is cross platform.
On which platforms can you play Forza Horizon 5?
The great news is that you can play Forza Horizon 5 on all of Microsoft's gaming devices.
This means that you can not only play the game on the relatively new Xbox Series X and S, but that you can also play the game on the older Xbox One series of consoles (launch, S, and X) as well as on a suitably powerful PC.
Is Forza 5 on PS4 or PS5
As nice as it would be to see Forza on the Playstation, you won't be able to play any games from this series on a Sony console.
Forza is one of the marquee franchises for Microsoft, and that means that the company tends to keep the title closer to home than you might expect.
Every Forza title since the beginning has been a Microsoft exclusive, so you shouldn't expect to ever see a Forza title hit any iteration of the Playstation any time soon.
So, what should you do if you really want to race but you only have a Sony console?
Unless you're willing to go back to some of the older racing titles that were released for the PS4, your best bet is to wait for a little while.
Sony's own marquee racing title, Gran Turismo, is due for a release in early 2022.
While Gran Turismo is definitely one of the more lauded racing titles out there, it should be noted that the game has much more in common with the mainline Forza titles than it does with the open-world Horizon spinoff series.
Is Forza 5 on Xbox One?
The short answer is Yes, Forza 5 can be played on XBOX one.
One of the coolest things about this console generation is that Microsoft has taken a number of steps to make sure that console owners can keep enjoying new titles even if they don't have the latest hardware.
As such, even those who are still playing on an Xbox One can still play Forza Horizon 5.
That is not, however, to say that the experience on the older hardware is nearly as good as what you'll find on the newer hardware.
If you were lucky enough to grab a Series X, you'll definitely get better framerates and enhanced visuals from Forza Horizon 5 than anyone will see on the older systems.
With that said, though, the core of the game experience is still there for anyone playing on an older Xbox system.
Is Forza 5 on PC?
As with many of Microsoft's latest titles, you can play Forza Horizon 5 on PC as as well as on Xbox consoles.
As you might imagine, playing the game natively does require some fairly impressive hardware specs but that's not the only option for PC players.
Microsoft has really been pushing cloud streaming over the last year and Forza Horizon 5 is one of the big proofs of concept for Microsoft's new service.
If you have a Gamepass Ultimate subscription, you can actually stream Forza Horizon 5 to your PC regardless of whether you are able to run the game natively or not.
Though the performance of the game is definitely going to be impacted by the speed and stability of your internet connection, this does allow even more players to access the game as it was meant to be played.
Is Forza 5 cross platform/crossplay?
Forza Horizon 5 is a cross-platform and cross-play game across all of Microsoft's lines.
This means that PC, console (Xbox one and X/S), and streaming players all play together at the same time and that players can save a single profile and use it across all three of the different services.
As you can imagine, this is great for those who want to keep their Forza Horizon games moving on the go as well as for those who find themselves moving between different systems during different times of the year.
When is Forza 5 Release date?
Forza Horizon 5 was released back on November 9, 2021.
Is Forza multiplayer?
Forza is very much a multiplayer game. While there is definitely a single-player component to the game and you can certainly enjoy the game without ever playing with another person, it's clear the game would really like you to play with others.
Not only will you commonly see the 'Drivatars' of other players with whom you are friends racing around the map, but you can drop in and race against both friends and strangers at virtually any time.
It should be noted that the game also has some excellent social features, ranging from clubs to the ability to gift cars to friends and other players.
Forza Horizon 5 might be one of the better single-player racers out there, but it becomes something even more special when you are able to play against other drivers.
Is Forza an Xbox Exclusive Game?
Yes, Forza is an Xbox console exclusive game (i.e Microsoft exclusive).
This means that you will not see it on the Playstation systems nor will you see it on Switch.
With that said, the game might be better thought of as a Microsoft exclusive, as you can still play the game on your PC.
Thanks to Cloud streaming, you can also technically play the game on any phone or tablet that allows you to synch a Bluetooth controller, though it should be noted that even this still requires that you have a Microsoft account and that you're singed up for the Xbox Ultimate Game Pass service.
Image Credit