Roblox is a highly unique title that sets the stage for a more creative and innovative atmosphere for games. In this article we will answer the question if Roblox can be played on Playstation PS4/PS5 consoles so keep reading below to find out the answer.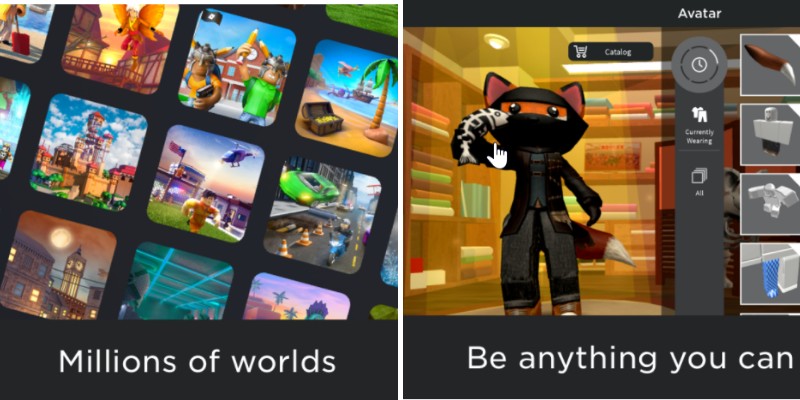 Roblox is essentially a platform that allows you to forge your own games on the basis of different genres.
Players can fine-tune their worlds and define the parameters through the comprehensive building.
Another feature that stands out is the ability to play games other people have created, much like you'd visit someone's personalized world in Minecraft.
This game had a slow start, but started to gain big traction with the Covid-19 pandemic when people's curiosity was peaked.
You have the power to manipulate the gaming environment and even set up your own microtransactions.
These innovations can lead to profit which is a fascinating concept that has never been available to the general public before.
Forging your own game is something that sounds like a dream come true, and it's free to play for all users with viable upgrades available in the store.
What systems can you play Roblox on?
Thankfully, Roblox isn't limited to a single system, and you can currently play that game on Microsoft Windows, Android, iOS, Xbox One, and macOS.
This is a massively multiplayer experience that gives you access to incredible features to build your world.
You will need a premium membership to sell the items, and other restrictions might hinder your gameplay if you only decide to play the free version.
Roblox has versatile options with many different systems where you can play solo or enjoy the invigorating environments forged by players around the world.
You will find all sorts of interesting games that can't be played anywhere else here! Roblox users can be active in the game and the community with opportunities to take part in special events that bring things to life.
There's nothing worse than a dead game where the developers don't care. They are very much active in creating a solid experience for their players with consideration and fun opportunities.
This is a unique game where you can achieve a realistic environment through an intelligent engine. The addition of Party Place also gave players the ability to hang out and relax while networking and socializing in a bold response to the pandemic.
Is Roblox Game on PS4/PS5?
The quick answer to this question is that Roblox is not available on PS4 or PS5 consoles.
The situation regarding why Roblox isn't on PS4/PS5 will be a familiar one to many seasoned gamers who are used to certain patterns of the gaming industry.
As you probably know, Microsoft XBOX and Sony Playstation are competitors and sometimes there are certain games where developers are paid to be exclusive to a certain system.
However, there is a way if Playstation decided to get a contract with Roblox to be added to PS4 and PS5. It's highly unlikely at this point and it's important to be realistic about our expectations.
Some gaming systems simply have priority with certain games and a humble gamer should appreciate what they have to begin with.
There are certain alternative games you can purchase on the Playstation that can accommodate you for the time being. One such example is a title called "Dreams" which has critical acclaim.
It's unfortunate that Playstation doesn't have Roblox though, because it's the height of the industry with many unique possibilities that PS4 and PS5 only players inevitably envy.
The ability to craft items and sell things is immensely popular, and you can find more adventures with this game in multiplayer mode.
Friends are waiting on the systems mentioned earlier and you can start exploring their unique games.
Can you play Roblox on PS4/PS5?
Roblox can't be played on the PS4/5, but you can visit the Roblox website through the console browser to find out more information.
This might be valuable in determining the developments of the future. Also, if you really want to play it badly then most people have a viable computer that can handle light gaming at the very least.
PC isn't as elusive anymore and you can get one for relatively cheap if you don't want to invest in a console.
Truthfully, it would be worth it instead of waiting around for Sony to do something about disgruntled fans.
Sometimes it's more about money than player accessibility and that's the point. If people see they can't have something then it will entice them to buy the game on another system.
As a gamer, you must decide if it's worth it and how much you'll play. A good way to gauge this is through watching gameplay online and asking people about the mechanics.
From here, you can ensure you get a fuller picture of what to expect when switching to any system it's on. It's an experience worth having sooner rather than later!
Can you play Roblox with a PS4 controller?
There's a slight silver lining for PS4 players though because if you decide to switch to PC you can opt to use your PS4 controller instead of using a mouse and keyboard, and this is very beneficial for a seamless experience.
Consoles are basically computers anyway, and there's nothing wrong with getting this game on steam to play with a PS4 controller conveniently.
First, connect the controller to the computer (you might need a micro USB B cable) and let it install the necessary drivers and updates to support functionality.
You must install the windows ".NET Framework" and then the DS4Windows driver which you'll have to unzip into the appropriate folder.
Save the file first, and then run it to follow the installation instructions. From there, click on the profiles to make sure your controller is recognized.
You can also check if it's functioning in the controllers tab to make sure you're all set.
Controller readings will let you know if all the inputs are working right, and then you're ready to enjoy hours of gaming either wirelessly or continually plugged into the computer.
This is the best way to play Roblox with a PS4 controller and it's good news for those who enjoy this controller style exclusively.