Genshin Impact is an open-world action RPG that was first released on September 28th of 2020. The game would quickly rise in overall popularity in a short amount of time.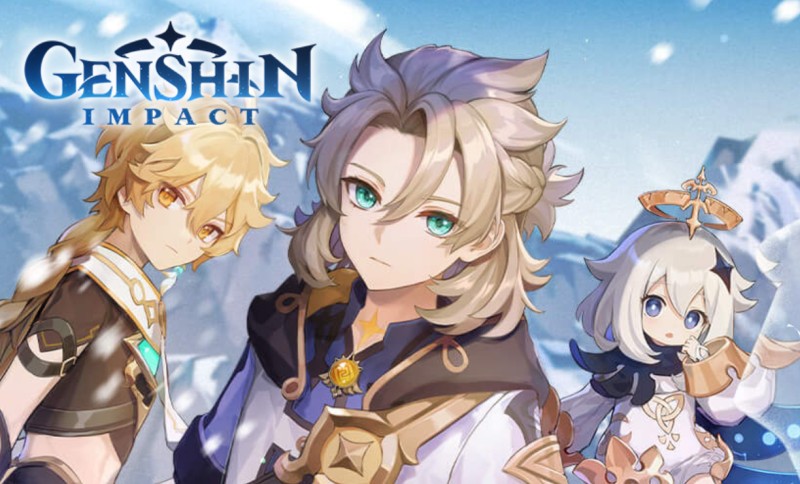 One of the game's biggest draws was the price. Genshin impact presents players with a large and beautifully designed world.
The anime aesthetics combine with huge open-world designs to bring a new level of immersion to players. But at the same time, there's very little barrier to entry. And all of that is, technically, available for free.
Genshin Impact offers free play to all users. However, it's monetized through a gacha mechanic.
This means that anyone can jump into the game for free. But certain features require or are at least enhanced by real-world transactions.
The business side of the game proved to be a tremendous success in most respects.
The low barrier of entry has led to a massive growth in players. Paid gacha mechanics are far from a new mechanic in the gaming world.
But we don't typically see them in open-world 3D games with solid mobile support.
What's more, we also seldom see gacha games handle cross-platform support as well as Genshin Impact. But this may have also led to some issues with platform availability.
On Which Platforms Can You Play Genshin Impact?
One of the best things about Genshin Impact is its extensive platform support. The game originally gained a huge amount of popularity on mobile devices.
It's arguable that the Android and iOS releases were responsible for a lot of its initial hype. Genshin Impact features graphical quality and gameplay elements which are quite rare on smartphones.
While Genshin Impact gained popularity on mobile devices it's far from limited to them. The game is currently supported on Android, iOS, Windows, Playstation 4, and Playstation 5.
Genshin impact is notable for its nearly ubiquitous presence on popular platforms. The game is available on all major mobile operating systems and most of the current-gen consoles. What's more, players can even enjoy cross-play with friends on different platforms.
Genshin Impact even makes it easy to share saves between platforms. For example, players can effortlessly switch between playing Genshin Impact on consoles at home and their phones when they're on the go.
However, there are two notable absences among Genshin Impact's supported platforms. The Switch and Xbox are particularly noteworthy in their absence.
Is Genshin Impact on Xbox?
The short answer is that Genshin Impact is not on Xbox (Xbox One or the X/S series).
We tend to see platform parity between Windows and the Xbox. After all, both of the platforms are owned by Microsoft. And they even share a lot of the same underlying development tools and technologies.
This makes Genshin Impact's absence from the Xbox something of a mystery. For the moment we don't really know why there hasn't been any port to the Xbox or even a suggestion that it could happen in the future.
It may simply be down to the overall popularity of the Xbox in Asia. The Xbox is far more popular in the Western markets than it is in Asian countries.
This difference in popularity might explain why a Chinese developer, miHoYo, might not be interested in porting to the Xbox.
Whatever the underlying reason, Genshin Impact isn't available on the Xbox and there's no sign that this will change in the future.
Is Genshin Impact on Nintendo Switch?
Genshin Impact is also notably absent on Nintendo's Switch for the moment. We do know that there's solid plans to eventually release the game onto the Switch however in the near future.
However, this port seems to be taking an unusually long amount of time. There's no suggestion that the port has been abandoned. But at the same time it's reasonable to wonder what's taking so long.
Genshin Impact was made with a system called Unity. The unity development platform, as the name suggests, makes it easier to unify a game's supported platforms.
Porting can sometimes be as easy as just changing a few options within that system.
Of course in reality a game is typically a lot harder to port. Differences in CPU and GPU capabilities are the most common problem that needs addressing.
But in the case of Genshin Impact, we have something which can run on fairly modest smartphones. So why is it taking so long for Genshin Impact to appear on the Switch?
Unless the people working on the port are willing to discuss the issues we're left with simple speculation.
We can extrapolate a little from other ports to the Switch. After porting games, developers often mention how much trouble they had complying with Nintendo's guidelines.
And working with a gacha mechanic may well make Genshin Impact a difficult prospect. We can't know for certain if this is the underlying problem for this port. But at the moment we do know one thing.
Genshin Impact is still being ported to the Switch. It's just a question of when that process will finish up.
Games Like Genshin Impact on Xbox
At the moment most gamers can enjoy Genshin Impact. Most of the popular platforms already have a port of the game.
And even Switch owners can expect to see it arrive some time down the line. But what about Xbox owners?
The simple answer is to look for a game that can scratch that same itch. And there are, in fact, some games similar to Genshin Impact on the Xbox.
Dragon Quest 11 S
Dragon Quest 11 S is one of the best ways for Xbox owners to scratch the Genshin Impact itch. Dragon Quest 11 S is a fairly recent upgrade and port of Dragon Quest 11 to modern platforms. And yes, that includes the Xbox One.
Dragon Quest 11's biggest similarity comes from visual design. The artwork in the first Dragon Quest set the standard for anime-based visuals in games.
Dragon Quest 11 was able to take that idea to the next level. Dragon Quest 11 offers a somewhat similar visual aesthetic when compared to Genshin Impact.
Players will also enjoy a cast of playable characters which spring from a similar pool of archtypes as Genshin Impact.
The world of Dragon Quest 11 is initially a lot more constrained than Genshin Impact. But as players move further into Dragon Quest 11's story the world as a whole will open up as well.
Elder Scrolls Online
Elder Scrolls Online offers another take on the open-world concept. It's based on the extremely popular Elder Scrolls franchise. Most players will be familiar with another entry into that series – Skyrim.
Elder Scrolls Online is different in many ways from Genshin Impact. The most obvious difference is that Elder Scrolls Online adheres to a more western rather than anime aesthetic for its art design.
The gameplay is also far more focused on multiplayer. As the name suggests, Elder Scrolls is an MMO.
But it's also quite playable as a solo endeavor. Solo players might have some trouble handling larger event based scenarios.
But for the most part, they can explore the large open world in a similar way to how they'd approach Genshin Impact.
This adherence to a large open world to explore is the primary point of similarity between the two games. And it's also one where Elder Scrolls Online has Genshin Impact beat.
Immortals Fenyx Rising
Immortals Fenyx Rising is another popular alternative to Genshin Impact that can be enjoyed on the Xbox.
Like Elder Scrolls Online, Immortals Fenyx Rising lacks most of the anime aesthetic of Genshin Impact. In fact, Immortals Fenyx Rising is modeled after Western mythology and has a complementary artistic design.
But the palate used within that art does compliment a lot of the choices made by Genshin Impact's art team. Bright colors and vivid imagery are the norm in both games.
Immortals Fenyx Rising also has a fairly similar gameplay style when compared to Genshin Impact. The main difference is that Immortals Fenyx Rising's playstyle is a little faster and more fluid.
This is a nice benefit when we consider just how large Immortals Fenyx Rising's world is. Players can expect to spend a huge amount of time traversing a world that's fairly comparable in size to Genshin Impact's.
The biggest difference is that Immortals Fenyx Rising's world design packs in more events, dungeons, and chances to interact with the game within that space.
Another important difference between Immortals Fenyx Rising and Genshin Impact is the Western and Eastern aesthetic respectively seen in each game. We can essentially think of it as two cultures' approaches to a similar theme.