Phasmophobia is a horror game whose scares rely on immersion. As such, people often wonder if it can run on VR headsets. And the good news is that Phasmophobia can be played on the Oculus/Meta Quest 2 VR headset.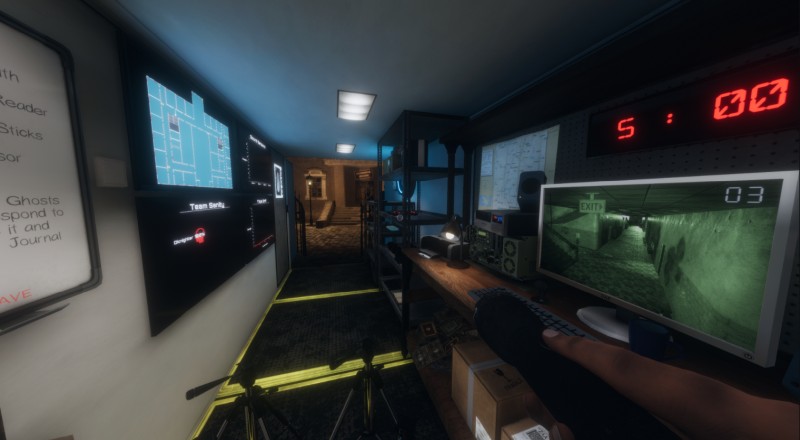 Is Phasmophobia Available on the Oculus/Meta Quest Game Store?
The fact that you can play Phasmophobia on the Oculus Quest 2 will come as a pleasant surprise to many people.
The game seems like a perfect match for a VR headset. As a result, many people have jumped into the Oculus Quest Game Store in hopes of finding it. And, unfortunately, Phasmophobia isn't available on the Oculus Quest Game Store.
This might seem to contradict the earlier statement about Phasmophobia running on the Oculus Quest 2.
The reason for this seeming disparity comes from the dual nature of the Oculus Quest 2.
The first iteration of the Oculus Quest was designed to break away from the wired design of the original Oculus headset.
The original Oculus was created under the assumption that users would always stay physically connected to their PC while wearing the headset.
But Facebook wanted to allow for greater freedom of movement with the Oculus Quest. They integrated a self-contained operating system into the headset that didn't need any wired PC connection to operate.
The self-contained hardware typically ran less processor-intensive games than you'd find on the PC. And these games became the basis for the Oculus Quest Game Store.
Over time, Facebook decided on a more balanced approach to tethered connections.
The company began by introducing an option for tethered PC connections when using the Oculus Quest. And later software updates for the Oculus Quest 2 would even allow for wireless connections to a PC.
It's this ability to connect with a PC that makes it possible for you to play Phasmophobia on your Oculus Quest 2 even though the game isn't in the Oculus Game Store.
A Deep Dive Into Phasmophobia
Of course, if you haven't played Phasmophobia you might be wondering why people are so eager to play it on a VR headset.
And it's true that the answer to this question might not be apparent at first glance. After all, the game seems to be a fairly standard horror game when simply glancing at a description.
The player and up to three friends are thrust into haunted locations to discover the nature of the supernatural threat.
But anyone who's played Phasmophobia can attest to the fact that you're thrown into something very different from the normal survival horror experience.
Phasmophobia is more like a supernatural horror simulator than a standard survival horror game. It features rich environments that are heavy on environmental interaction.
Phasmophobia is one of the few games that can really make you feel like you're wandering through the dark hallways of a haunted school or investigating the true nature of an ominously empty house.
Players will even feel like they're interacting with spirits as they shout out questions for unseen presences.
But you're not just talking with ghosts. The game is best experienced with three other players. All of these points highlight the game's most remarkable feature.
It's ultimately an immersive experience. The game works best when you're fully enveloped in the atmosphere. There's nothing like hunting down ghosts with three other people while communicating every step of the way.
It's a game that draws players in with realistic visuals, real-life companions, and an undeniable atmosphere.
The more drawn into the game you are the more enjoyable it is. And this highlights why Phasmophobia is so perfectly matched with VR headsets.
VR can make any supported game feel more immersive. But the synergistic effect of an immersive piece of hardware and an immersive game like Phasmophobia can't be overstated.
You really do feel like you've stepped into a haunted house or similar environment.
How Can You Play Phasmophobia on Oculus/Meta Quest 2?
At this point, you're probably wondering how to actually get Phasmophobia running on your Oculus Quest 2.
The process involves a lot of different components and can be somewhat complex the first time you set everything up. But it's less difficult than it might seem and runs flawlessly once you've finished the initial setup.
You'll of course want to begin by actually buying a copy of Phasmophobia for the PC.
This is most easily and seamlessly done through the Steam store. As noted earlier, Phasmophobia doesn't actually run as a native app within the Oculus itself.
We'll be using the PC for most of the game's processing and the Oculus Quest 2 as a remote display of sorts.
After you've bought and installed Phasmophobia through Steam you'll want to run it once to get through any setup options.
You might be prompted to install driver updates or the like during this phase. But once you've verified that you can start the game up you'll be ready to get it working with the Oculus Quest 2. We begin by setting up a connection between the PC and Oculus.
You essentially have two solid options to pair your headset with your PC. The wired connection is the most stable method.
You simply start the Oculus app on your desktop, connect the two with a USB-C cable, and click the enable or allow options if they come up.
Then you simply need to start Phasmophobia from within Steam while your Oculus Quest 2 is hooked up to your PC.
Can You Play Phasmophobia on Oculus Quest 2 Wirelessly?
You can also play Phasmophobia through the Oculus Quest 2's wireless link. However, keep in mind that the effectiveness of this method is largely dependent on your router's strength.
The more powerful your wireless router the closer the quality will be to a standard wired connection.
The wireless connection is also still a beta feature within the Oculus Quest 2. As such, you'll need to enable it if you haven't already.
This involves going to the Oculus PC app's settings. From here you select the Beta option from the General tab. Next, find the Air Link option and enable it.
At this point, you'll need to press the Oculus button on your right Oculus controller. This will bring up the Universal Menu on the Oculus Quest 2's screen.
Open the Quick Settings within it and then select Settings. Inside the Experimental options, you'll find an Air Link setting. You simply need to make sure that the Air Link option is enabled.
You'll now have a new Air Link option under Quick Settings. When you click on it you'll see your PC listed as an available connection.
You should click on your PC's listing and select Pair. This will create a pairing code. After double-checking the code against what's displayed on your PC you'll simply need to click Confirm.
Don't worry, you only need to go through this process once. After Air Link is enabled it'll be available for Phasmophobia, and any other game, from that point on.
Clicking Launch in the Oculus will bring up the VR version of Steam. And you simply need to select Phasmophobia from within it to play.