Grand Theft Auto, or GTA, helped to popularize the idea of a sandbox game. Players are given the freedom to wander around huge maps that they can interact with in almost any conceivable way. It exemplifies the concept of just living within a digital world.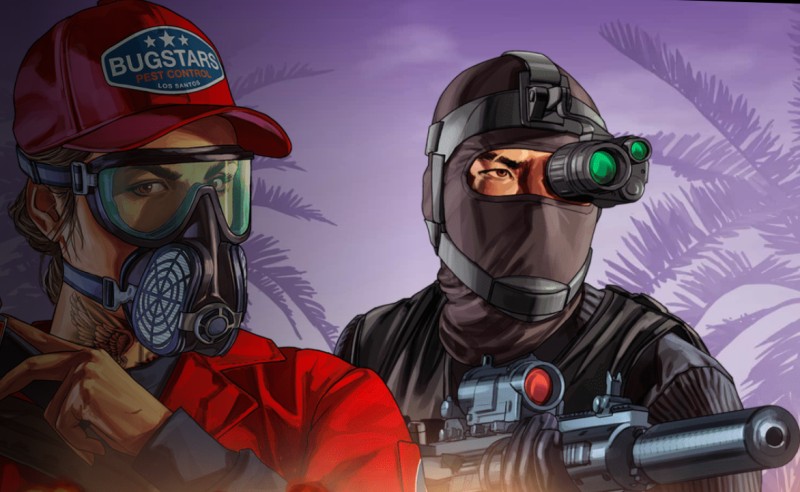 Players can carefully obey the law and find their fun with golf or by carefully driving within an area's speed limits. Or they can steal a car and plan the perfect heist.
The only real limitation came from the fact that GTA was devoid of real people other than the player. But all that changed with the release of Grand Theft Auto V.
GTA V didn't just give players a standard offline game. It also provided them with the ability to play Grand Theft Auto Online. This opened up a whole new way to experience the game. Suddenly Grand Theft Auto wasn't just a huge digital world. It was also a world populated with real people.
GTA Online was originally tied directly to GTA V. But the online mode proved to be so popular that a standalone version was released in March 2022.
This also heralded some impressive new updates which allowed for improved resolution and graphics. All of this has culminated in a new type of Grand Theft Auto. It's a GTA experience that looks and plays better than ever. Not to mention that it gives people access to a living world filled with other players.
Or, rather, that's the case for people who are able to properly access the online functionality. Players on Sony's PlayStation usually can't just log into the game unless they're a PlayStation Plus subscriber. This naturally leads to an important question. Is there any way for PlayStation owners to play GTA Online without PS Plus?
Can You Play GTA Online Without PS Plus?
There are a few exceptions to this rule. But the simple answer is that there's really no way for PlayStation owners to reliably play GTA Online without PS Plus. There was a time when PlayStation owners could expect free online access to the latest and greatest multiplayer games. But that changed in 2013 with the release of the PlayStation 4.
With the retirement of the PlayStation 3 also came a retirement of Sony's free online services. From the PlayStation 4 onward, online services were typically tied to PS Plus subscriptions. And of course this also means that people playing GTA Online would need to have a PS Plus subscription to play.
There are some exceptions to this rule though. You'll recall that PlayStation 3 users were able to access most multiplayer options for free. And this held true with Grand Theft Auto Online for a considerable amount of time. But GTA Online support for the PS3 ended in December of 2021.
The only other exception to the requirement of a paid PS Plus subscription comes from an occasional promo event. Sony occasionally offers free trial memberships for PS Plus. This lets Grand Theft Auto Online players connect to the service if they take advantage of the free trial.
And GTA developer Rockstar has been known to provide free access on occasion as well. For example, they celebrated the release of their After Hours expansion by opening up free access for a limited period.
However, it's important to keep in mind that neither of these methods are reliable or common. The simple answer is that right now there's no reliable way to play GTA Online with a PS4 if you don't have a PS Plus subscription.
Can You Play GTA Online on PS5 Without PS Plus?
GTA Online for the PS3 isn't accessible anymore. And GTA Online for the PS4 usually requires a PS Plus subscription. But what about the PS5 and its Grand Theft Auto Online Standaline edition? Is there any way to play GTA Online on the PlayStation 5 without a PS Plus subscription?
Unfourtuantly the situation for PlayStation 5 owners is almost the same as PlayStation 4 owners. There's really no reliable way to consistently play Grand Theft Auto Online with the PlayStation 5 without being a PS Plus subscriber. But there is one minor exception to this rule.
If you buy GTA Online Standalone for the PS5 you're also entitled to a 7 day trial period of PS Plus. Claiming the trial subscription couldn't be easier.
You just need to load the game up and enter multiplayer. If you don't have a PS Plus subscription than the system will direct you to a store page where you can claim your 7 day PS Plus trial.
However, this is a one time trial period. Once you've used the trial subscription you can't claim it again. Past that point you'll need to actually pay for a PS Plus subscription to play GTA Online on your PS5.
What Is PS Plus?
This all leads up to one indisputable fact. You're going to need PS Plus to access Grand Theft Auto Online. But what exactly is PS Plus?
The PlayStation Plus service was first launched all the way back in 2010. Though it's changed a lot since those early days. Today PS Plus is divided into three separate tiers. These three tiers also include features which were added from the PlayStation Now service.
PlayStation Plus Essential is the most economical option and the best choice for people who are only interested in playing GTA Online.
It provides access to the multiplayer functionality needed for GTA Online. It also gives players access to two monthly downloadable games from a sizable library of titles. The Essential plan costs $9.99 monthly, $24.99 quarterly, or $59.99 yearly.
PlayStation Plus Extra provides all of the features found in the Essential plan. But it also increases the downloadable options from a catalog of 400 PS4 and PS5 games.
The Extra tier costs $14.99 per month, $39.99 quarterly, or $99.99 per year.
PlayStation Plus Premium gives you all of the features found in the Essential and Extra tiers. This is easily the best tier for people interested in Sony's extended library of games.
It includes 340 additional games. The library even includes some selections from the PSP, PS2, PS1, and PS3 through cloud streaming. Premium costs $17.99 when billed monthly, $49.99 quarterly, or $119.99 yearly.