What exactly is a Gamertag generator?
A Gamertag generator is a tool (usually found on websites online) that saves you a lot of thought, time, and hassle by generating fun and unique gaming names for you to use on your Xbox Live account (or on other gaming accounts as well).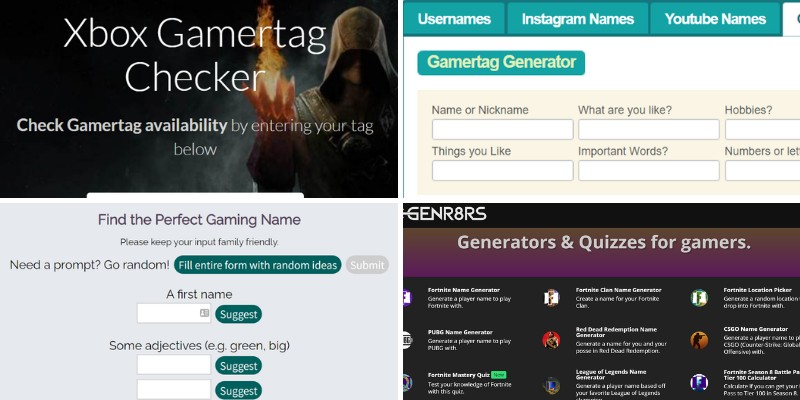 This doesn't have to sacrifice your creativity because many of them have options to input your own words which are modified.
They allow you to come up with a cool and unique tag that will be memorable and innovative without breaking a sweat.
We have researched some great Gamertag random name generator options that you can find online to create a cool and fun gaming handle.
This generator features random adjectives along with suffixes and prefixes for an interesting result.
For instance, you could be Mr. Freeze or Ms. Carnage as a couple of viable options.
This generator limits you to 15 characters, but it's still an excellent tool for coming up with names that seem genius.
If you want to make an impression with your gamer tag, then consider using this generator to discover new ideas and even enhance your creativity when changing up your name on the spot!

Gamertag is another random name generator that makes it possible for you to enjoy multiple tags without any effort.
You have the option to choose gender, length, language, and even mixtures of names for a unique result.
This is definitely on the more versatile side when it comes to generator tools. The flexible approach gives you a considerable advantage when choosing your tag.
It's very important to choose a tag you like, and this generator will help you narrow down the possibilities without overthinking. The tags are viable for any platform!

Names4brands are on the simplistic side of things, but some users might prefer this type of interface.
With a single click of the button, you'll have instant gratifying names that are visually appealing and catchy.
There are different feels to each name, so it's a good idea to meditate on them for a while and narrow down your favorites before settling on one.
There is the feature here to immediately copy and paste them to your computer for access later. Deliberation is made easier with this instant gamer tag generator!

This is a cute site with some unique features that help you create a nice Gamertag that all your friends will adore.
Enter your personal nickname so that it's integrated into the results and you'll come up with some impressive options.
One unique filter is you can type in things you are passionate about to include in the tag.
Important words and hobbies are also sections to fill out to get a more personalized result. This is a very flexible generator that's reliable and efficient with numbers or letters.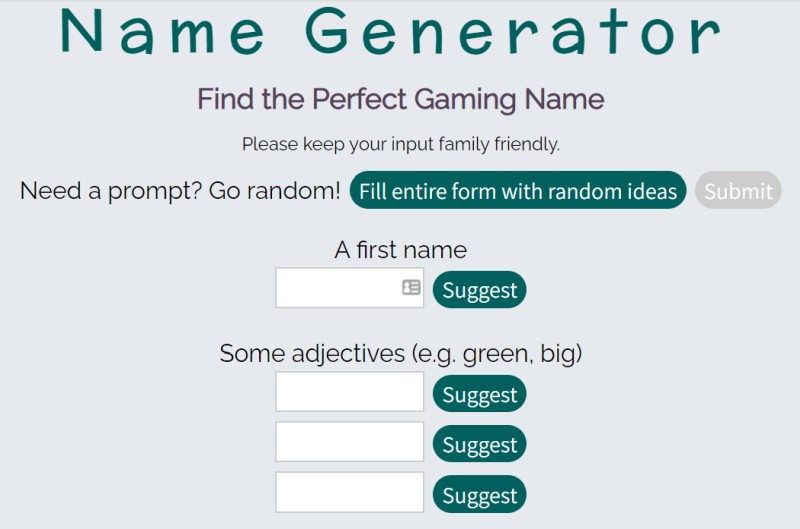 First off, this name generator gives you the ability to simply click the random number and start choosing.
This is convenient because it allows you to get immediate results to deliberate between. You can enter your first name here along with relevant adjectives, nationality, up to two body parts, and animals.
The customization here is taken to the next level with viable sections. Combining random ideas is one of the best ways to go because it ensures the results are more unique. It's also neat that you can click the suggest button to auto-fill any information.
This is another more simplistic tool, but it's incredibly reliable overall. There are certain hidden advantages to using this interface.
First, you will only see one suggestion at a time which is good for contemplation. Seeing too many results can make you scramble and lose focus.
Here you get clear and coherent ideas in large font on the screen which is perfect for deciding on a new gamer tag. It keeps your mind focused on one thought at a time and that helps with the imagination.
Cool generator is perhaps the most thorough one out there with multiple different subsections.
These include options like fantasy names, celebrities, sports, gaming, and much more! The possibilities are endless here, and you can get a unique gamer tag by considering any of the categories.
A tag can be anything, and you have a lot of control here right down to the number of characters generated. You'll want to go to the game and music section first when in need of a name. The different systems are all located there.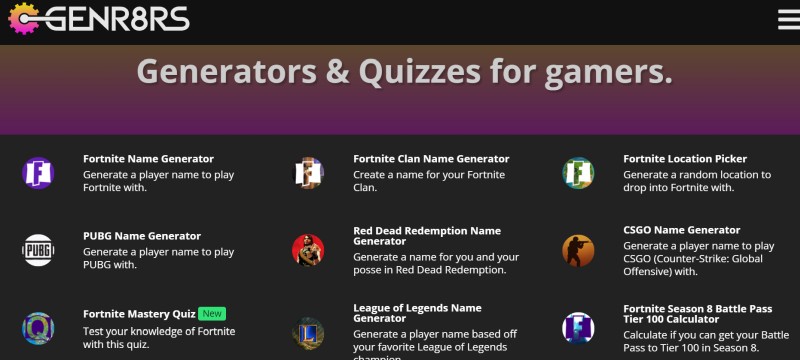 This is an excellent name generator because you can accomplish names specific to games like Red Dead Redemption. This is a great hotspot to discover trivia on your favorite titles as well.
Because there are many different genres, you'll require a certain type of name for each game.
Choose which game you're playing and then this generator will be fine-tuned for that experience. This means it will look and flow better instead of coming up with something without a generator. Genr8rs has many to choose from which is a big advantage!
Plarium has a simple tool where you can generate names according to masculine or feminine characteristics.
There are different categories to choose from to get specific results and they include nicknames, fantasy, elf names, gamer tags, DND names, clans, superheroes, and RPG.
As you can see, these are very different experiences and you want the name to fit because that's how you interact with others.
Your name can also be significant because it establishes your player type. Think of it as your alter ego because it's connected to your voice online.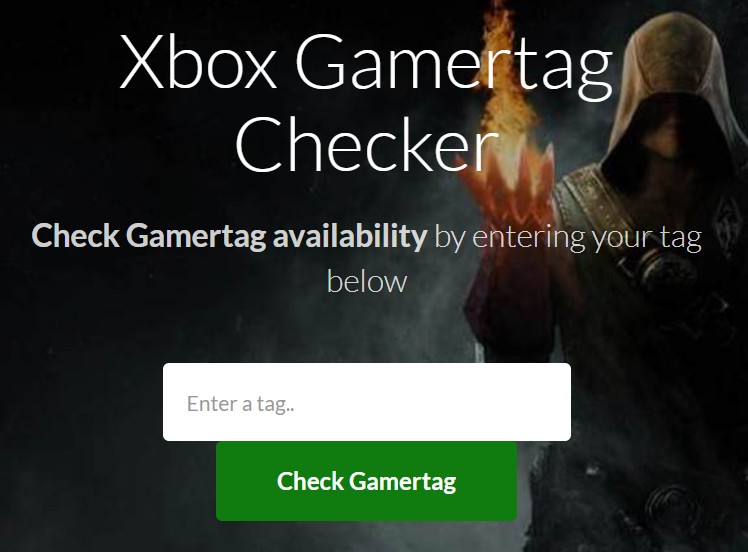 This is specifically an Xbox tool that can either generate names or check to see if whatever name you enter is available.
This can be much quicker and more efficient than trying to discover names on your own. Making the necessary adjustments to any given name can make it available, but sometimes it's easier said than done.
Keep trying and modifying until you have the perfect handle and you're good to go on Xbox. Following the gamer tag registration rules is also part of the process that must be adhered to when coming up with new names!
You can enter randomly generated names that you've modified with new ideas and then check if it's available with ease.