Grand Theft Auto V is the latest iteration of the beloved open-world crime series, but it's also the version that has lasted the longest.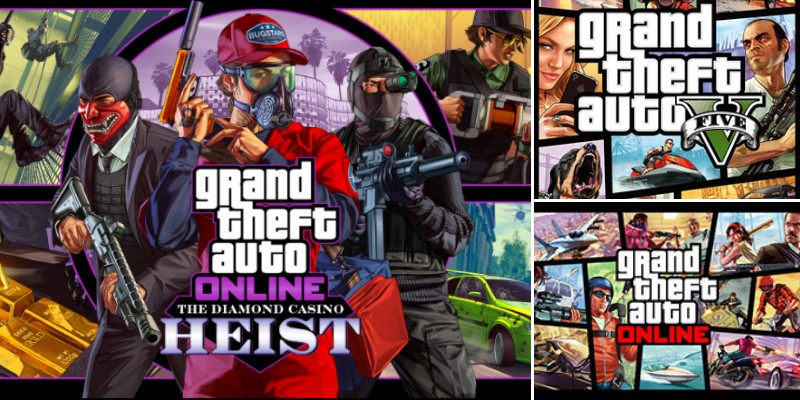 Thanks to the inclusion of GTA Online, this version of the game has outlasted most of its competition and has maintained an online presence for the better part of a decade.
If you're currently playing Grand Theft Auto V or GTA Online, you might want to know a bit more about where it can be played and with whom you can play the game.
Fortunately, taking a look at the answers to a few quick questions can give you all the information you need to make an informed decision about how you choose to play Grand Theft Auto V and GTA Online.
In this article you will find out if GTA 5 and Online are cross platform and cross play so let's discuss that.
Is GTA 5 Cross Platform and Cross Play?
Unfortunately, GTA 5 is not a cross platform game. Players are very much locked into their ecosystems of choice, so those who play on Sony consoles can only play with other Sony players while Xbox players can only play with Xbox players.
GTA 5 is, however, a single-player game so the story mode really doesn't have any need to connect players across various platforms.
Is GTA Online Cross Platform and Cross Play?
Most players will find it far more important to figure out whether or not they can play GTA Online with their friends who own different platforms.
The bad news, unfortunately, is that GTA Online isn't cross-play or cross-platform even though many of its competitors have embraced this.
That means that you'll only be able to play with those friends who have consoles in the same family of consoles as the one you own, with everyone else being locked away in different servers that work with their own hardware.
On which platforms can you play GTA 5?
Grand Theft Auto V is a game that's managed to not just last a long time, but that's managed to actually persist across multiple console generations.
The game was initially released on the Xbox 360 and Playstation 3, but was quickly re-released on the Xbox One and Playstation 4.
The game is also compatible with the current generation Xbox Series S/X and the Playstation 5, as well as with Windows computers.
On which platforms can you play GTA online?
Though Grand Theft Auto 5 is available on multiple platforms, the online version of the game isn't available across the board any longer.
GTA Online originally launched on the Playstation 3 and Xbox 360, but the servers for those iterations of the game have been turned off as of the end of 2021.
The good news, though, is that gamers can still play GTA Online on not only the newer Xbox Series S/X and Playstation 5 consoles, but also on last generation's Xbox One and Playstation 4.
As you might imagine, the changes in console generations have not impacted the PC servers and the game is still fully playable online with Windows computers.
Is GTA 5 Cross Platform between Xbox and PC?
Even though GTA 5 isn't a cross platform game, many might expect some kind of overlap between Xbox One and PC.
After all, many Microsoft games feature multiplayer between the two platforms even though they don't generally fall under the cross-play banner.
Unfortunately, Xbox players and PC players are still kept separate in GTA 5 as well as on GTA online.
Once again, you can only play with those who are playing the game on the same general type of operating system as the one on which you are playing.
Is GTA 5 cross platform/cross play between Steam and Epic Games players?
Fortunately, there is one platform where players aren't separated from one another – the PC.
It doesn't matter if you are launching game via Epic or Steam, the game will still allow you to play with other PC players.
This is largely because the launch location doesn't actually matter for the game, as players will still eventually going to Rockstar's own system when they're playing the game.
How to transfer GTA V from Rockstar to Steam?
If you picked up GTA V early on, you almost certainly got the game through Rockstar. While Rockstar Social Club is a fine launcher, it's not exactly the most popular in the world. If you'd rather launch your game via Steam, you're at least partially in luck.
No, you can't change your purchase from Rockstar to Steam to make the game an 'official' Steam release with badges and achievements, but you can launch your Rockstar version of the game from Steam.
All you need to do is choose the option to add a non-Steam game to your launcher, then choose the .exe file for Grand Theft Auto 5. Once you've done that, you'll get a shortcut in your Steam library to launch the game.