There have been some exciting basketball titles released throughout the years, and here we will narrow it down to the top ten best NBA games according to Metacritic scores for accurate results.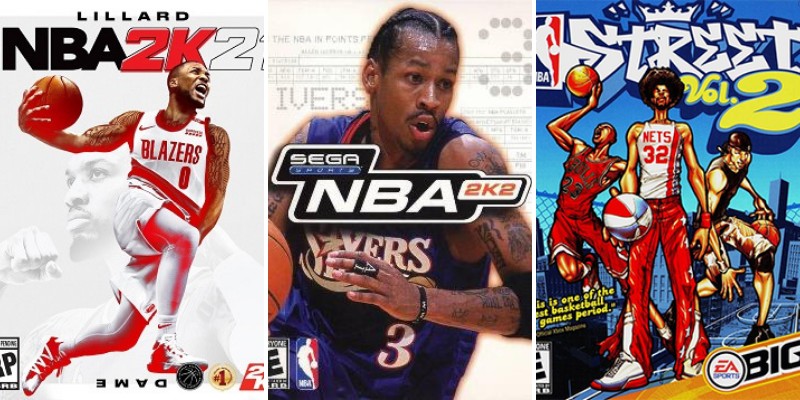 These titles will give you hours of fun with a more dynamic and memorable experience.
They stand out from the crowd as your go-to option to enjoy with endless hours of simulated basketball that rivals the real thing!
The graphics look impressive, and each title offers a different appeal with varying game modes for versatility.
A good basketball game is measured by the time and attention to detail placed into each player's moves.
Team building options are always a plus too with customization options for longevity.
With further ado let's see the best NBA video games according to Metacritic reviews.
1) NBA 2K2
NBA 2K2 stood out because there were some vast improvements in the game mechanics and overall options for players.
This included the new legend teams option with featured players like Michael Jordan, Larry Bird, Magic Johnson, and more!
Each different player has their own specific move set and you have to balance between offensive and defensive for favorable results.
There are a variety of exciting game modes to consider within the NBA 2K2 experience including Exhibition, practice, tournament, playoffs, and even fantasy play with customization options!
This is an older title, but sometimes the staple classics never really get old and are cemented as lasting favorites. NBA 2K2 is still enjoyed by many because it is reliable and fun!
2) NBA 2K1
This is another impressive title that was developed by Visual Concepts and was officially published by Sega.
This was a very significant addition to the franchise because it was the first one to feature an online multiplayer experience where you could interact with other players.
Another interesting perk of playing NBA 2K1 includes the addition of street courts with fun environments to switch things up.
The game has various modes to explore which cater to different tastes. If you want a more relaxed environment, then street mode might be the right choice.
Allen Iverson is the star athlete featured on the cover. Many improvements were made and this solidified NBA 2K1 into the heart of many sports gamers!
3) NBA Street Vol. 2
This is the height of three on three basketball with thrilling gameplay and a versatile approach with 29 teams to choose from once fully unlocked.
Here you will gain insight on how to conduct some of the most stylish and innovative tricks on the court.
These new additions add a fun element to NBA Street Vol. 2 and you will get reward points along the way to unlock items and players along with new locations to enjoy basketball.
There are street legends and NBA legends you unlock along the way and there will definitely be some familiar faces like Michael Jordan.
There are four main game modes to play here and they include Pick up game, NBA Challenge, Be a Legend, and Street School.
4) NBA 2K12
Like the others in the series, NBA 2K12 sought to give you a realistic and exciting experience while enjoying your favorite teams and players.
One of the main draws of this title that really makes it stand out among other basketball games is the NBA's Greatest mode.
Here, you have the ability to recreate exhilarating historical moments in the game's rich history.
The "Create a Legend" mode is also excellent for those wishing to get an in-depth look at a player's career and progress through the tough challenges on the court. Like everyone, you have to start out as a rookie, but the game is intended to give you the best NBA simulation experience possible!
5) NBA Street
This was a game released in 2001 by EA Sports Big for multiple consoles and has a reputation for representing both elements of professional basketball and streetball which are widely popular.
You will strive to get trick points while playing effectively with your team to make some stellar dunks.
There are many actions to choose from and it's considered more of an arcade type of game.
Still, it is one of the better basketball titles created because of the incredible balance and versatile cast.
You will need to take down certain Street Legends and these are bosses that require some extra thought and precision. This is a challenging and fun basketball game and is the first of the Street series!
6) NBA 2K17
With this game, you will customize your experience to endure a career that will be incredibly rewarding.
The MyGM and MyLeague modes have been dramatically improved with more organized results that streamline gameplay.
You have the ability to expand your league and grow further than ever with NBA NK17 and it has a lot of repeatability for hours of endless and addicting basketball fun.
The dynamics of the moves have also been improved and many players were happy that MyCareer mode returned to this title with some vast improvements like upgrading attributes and altering players' physical appearance.
You will earn currency along the way to purchase card packs that include rare items to enhance your team.
7) ESPN NBA Basketball
There were some great improvements made to this title based on the previous ones. The first notable perk of ESPN NBA Basketball is they revamped the passing game entirely.
There are far more passing options and players are no longer limited to just one. 24/7 mode is another notable selection with intensely satisfying customization that will get you ready to face rivals around the United States.
The competition will lead to victory and from there you can continue to upgrade with accessories and animations. Competing for the gold is what ESPN NBA Basketball is all about, and it strives to give a realistic simulated basketball experience while delivering! You can even improve your player's reputation over time.
8) NBA Street V3
This is an enhanced version of the previous street titles and places heavy emphasis on enjoying streetball in different courts. You will find 12 different courts to play on and they're all based on actual locations.
Gamebreakers return to how they used to be where players can execute tricks and the final score will be based on precision, accuracy, and consistency.
This game definitely gives you the opportunity to enjoy some rewarding prizes that will enhance your basketball experience.
An interesting gameplay element is when someone performs a game breaker poorly.
This results in the opportunity for someone who was far behind to take the lead suddenly. Don't count yourself out when there are opportunities to step your game up and dunk to victory!
9) NBA 2K11
NBA 2K11 is another reliable title that has many fun game modes and familiar players to enjoy across their careers. The Association mode allows you to effectively take control of an NBA organization and run things how you see fit.
This is a tremendous sense of power and prestige you have, but it's up to you to make things go smoothly.
MyPlayer mode and career mode are also available again here with thrilling times to be had no matter where you decide to play.
The most notable feature of this particular basketball title is the "Jordan Challenge Mode" where you can complete ten of his most exciting and memorable achievements throughout his impressive reign as king of the sport.
10) NBA 2K21
NBA 2k21 has some new customization options in MyCareer mode including the addition of female players on next-gen consoles.
You can customize your character's clothes, accessories, and purchase some needed in-game boosts for an extra edge.
The MyTeam mode is a lot of fun if you're into collecting cards, and there are some great tournament competitions to consider where you can test your skills.
This is definitely a competitive game, but you can relax in franchise mode where you take on more of an executive role.
These are some of the best basketball games based on the Metacritic scores and they are worth playing for all fans!
Image Sources
By gamespot , Fair use, https://en.wikipedia.org/w/index.php?curid=24423951
By http://www.gamefaqs.com/xbox/583404-nba-street-vol-2/images/box-51610, Fair use, https://en.wikipedia.org/w/index.php?curid=41554178
By Visual Concepts / 2K Sports – https://www.forbes.com/sites/brianmazique/2020/06/30/nba-2k21-standard-cover-athlete-trailer-and-pre-order-revealed/#338318723693, Fair use, https://en.wikipedia.org/w/index.php?curid=64451545