Motorcycles are among the most popular vehicles for anyone to ride, period. Given that, it's no surprise that video games featuring motorcycle racing etc are now as popular as they are.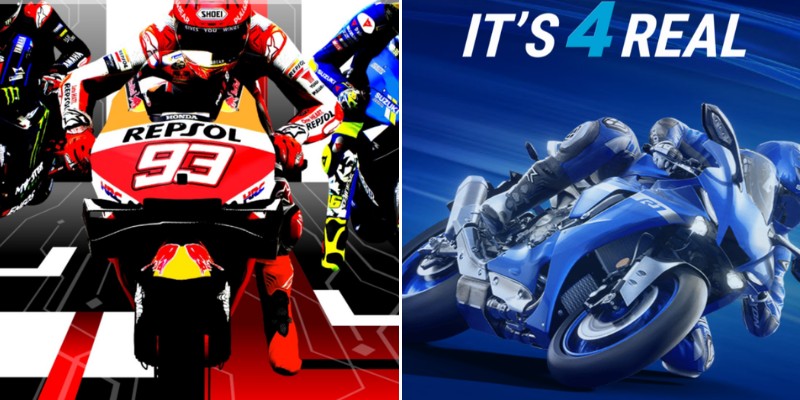 Here's a list of some of the best motorcycle video games in ranked order.
1-Ride 4
Ride 4 is a video game available for Windows, PS3, PS4, XBox One, and XBox 360. The game has both single-player and multiplayer modes.
This game is known for its realism as a simulation. It has upgraded graphics from the games that have come before.
It is aimed at hard-core fans who don't need any introduction and who don't need to learn what they're doing.
The game assumes that you know what you're doing, and is aimed squarely at gamers who want as many details as possible.
Those who love motorcycles won't be likely to find a game more built for their tastes than this one.
Every detail about real motorcycles has been copied, and the real physics of riding has been fine-tuned to seem more real.
2- MotoGP 3
This game is available for PS3. It is specifically based on the real-life motorcycle racing season called the 2002 Grand Prix.
It starts with four-stroke bikes as an intro, however. The game has added more tracks than what you get in the previous game. These include real tracks as well as some made-up ones. You can create a custom rider for this game as well.
There's a lot of realism here, which explains the game's relative popularity despite being a bit older.
The game is focused on being realistic and has the bikes you can choose geared towards the way it would actually handle.
3-MotoGP 20
GP 20 plays for Windows, PS4, Box One, and now Nintendo Switch and Stadia. It has quite a few game modes including the usual career and multiplayer, but you can also play historical and personalization options.
You can play real teams, or you can use new ones created from the MotoGP world.
Even more, realism has been added in with improvements to the game series including more complex braking.
You can see different parts of the tire now, with indicators for how warm it is and how much wear it has.
You can even tinker with how much fuel is burned due to the type of tire you have. This game has an extreme amount of customization and realism for people who like that.
4-MotoGP 21
This most recent GP game plays for XBox One, XBox Series XIS, Playstation 4, PS5, Nintendo, and Nintendo Switch with more to possibly come later.
This game adds realism in the form of actual rules from the real race itself, instead of just physics additions. For example, you have to worry about things like the Long Lap penalty.
There are 5 different graphic editors you can use in this game to change your helmet, stickers, suit, racing number, and more.
There's an improved Neural A.I. and even a dedicated server where you can play against other players online however you want.
You can even create your special event in the Race Director option to have other players join the special race that you set up.
5- Ride 2
Ride 2 is an open-world game with motorcycles that's an early iteration of Ride 4. It's available for PC, Xbox One, and PS 4.
This one has 200 bikes to choose from which is a huge improvement of just 4 categories that you got in the first Ride.
You do have other customizations possibilities too. The basic tracks you get in this game included Macao and Ulster in terms of locations.
6-TT Isle of Man: Ride on the Edge 2
The Isle of Man Ride game is based on the Isle of Man TT event which is known as one of the most dangerous motorsports in the entire world.
The real-life event takes place on 38 miles on the actual Isle of Man, on a public road that is incredibly thin. The real event has killed over a hundred people since it started in 1907.
The game that copies it is known for being especially hard, and the real-life map is exactly the reason why.
Many people have commented that the game feels fast and dangerous in ways that not all motorcycle games are able to achieve.
The map is highly varied since you travel through forests, old streets of cities, and even right next to the beach. Users also talk about how it has a great soundtrack as well.
The game is available for Box One, Playstation 4, PC, and more.
7-Grand Theft Auto V
GTAV came out several years ago for PS3, Box 360, Windows, and many more. The game seems to get ported over and over when new systems come out since it's that popular.
Motorcycles are only one part of this game, but there is actually plenty of content relating specifically to motorbikes.
There are dozens of different types of motorcycles available through the game. The most expensive ones are types like the Principe Lextro which costs $750,000 of in-game money, or even bikes that cost millions of dollars within the world.
You can ride your bike through the world to get missions done wherever you go, making it a motorcycle game if you want it to be.
8- SBX X: Superbike World Championship
The SBX game is available for just PC, PS3, and Box 360. This game actually works better for those who are less hardcore bike riders because there's an Arcade mode that is more forgiving than it is if you are in the simulation model.
You get a boost option in the Arcade mode as well. You can also do Story mode, which is similar, but lets you go for a specific accomplishment like trying to outrace other specific bikes or trying to finish while in a specific ranking position.
9- Tourist Trophy
This game came out for Play Station 2. It also had the name "The Real Riding Simulation." This game was special since it was only one of a few titles for PS2 that could output in the 1080i resolution.
The gameplay started with obtaining licenses in the game which then allows you to get faster motorcycles that you can use in the Challenge mode.
This is different from a lot of games like in Gran Turismo since you don't buy bikes with in-game money. Instead, everything is done with licenses.
There are 135 motorcycles in this game, and they vary in power from 124 cc all the way up to 1670 cc.
There's also a ghost option where you can get files from other players to compete directly with their best times.
10-Trials Rising
Trials Rising is available for Windows, PS4, Switch, Box One, and Stadia. It's what's called a 2.5d racing game since it's not quite a true 3D.
In this game, you drive your bike through obstacle courses that are set in different parts of the country.
For example, you can ride your bike down Mount Everest or even the Eiffel Tower. You can play online and set records. The game can then tell you when your record has been broken by someone else.
There's also a tandem mode where you can have two players control the same bike, with each player controlling a different part.
11- Trials Fusion
This game is more of a traditional racing motorbike game than a realistic simulator.
It came out for Windows, PS4, Box 360, and Box One. In this game, you have an arcade-like approach to the sport of observed trials racing.
Just like in other parts of the series, you control a bike and you are trying to guide it through obstacles.
This game uses full 3D graphics though, it's played on a two-dimensional plane. This means that you can only go forward or in reverse.
You do this by shifting your rider's weight forward, and then back again so you can do tricks like wheelies and flips in midair.
These games are all known for being quite hard to play, despite having more of an arcade feel. You can do your own stunts in this game, which is an addition to previous games in this line.
12- MXGP3
GP3 came out for Windows, PS3, and Box One. It's based on the real race called the 2014 Motocross World Championship.
This game has the traditional career mode where you can choose different teams and even get sponsorships. These are focused on the motocross type of bike racing.
One thing that's interesting about this game is that you can also choose the weather conditions you'll be racing in. You can do this for online championships as well as against AI opponents. There's also the possibility of playing as MX riders from real life for a bit of a more realistic feel.
You can win in-game cash and use it to buy upgrades for your bike to help you win later tournaments. In this way you can slowly get the best bike possible.