Rusty Lake is a development company that created the Cube Escape game series, set within the world of Rusty Lake. This world is based on the Amsterdam area in the Netherlands.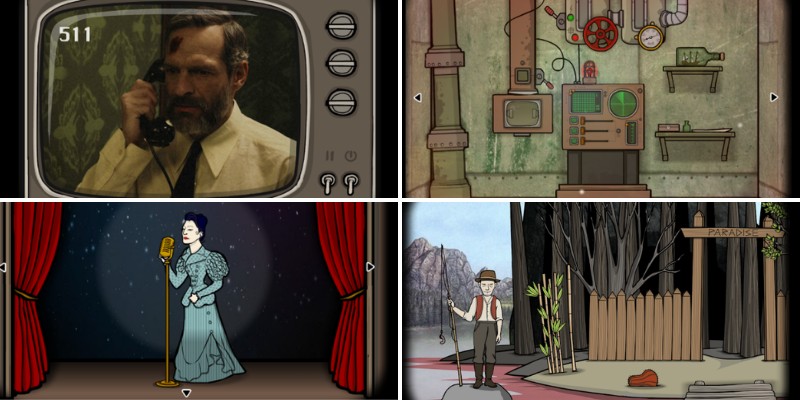 This location also had some inspiration from the series Twin Peaks. These are puzzle games based on the room escape concept.
The developer wanted to add surrealistic elements that used more visuals instead of full narrative voiceovers to make the games easier to play.
In particular, these games are cubical rooms that you have to escape with point and click elements. You have to collect clues and find items to help you get out.
The list below shows all the Cube Escape – Rusty Lake games in order that should be played, so let's discuss each one below.
1-Cube Escape: Seasons
This game is available on Android, the App store, as well as Steam, and others. It's set in the spring of 1964.
You have to move through four different time periods as you try to solve a mystery.
Like most of the games in this series, the gameplay is very surrealist and almost dream-like, and it's all about exploring your environment to figure out what's going on.
You play the part of Dale Vandemeer, who is a homicide detective. The opening scene has you in an orchard with a grandfather clock, a fireplace, and your parrot, Harvey. However, something is wrong, and you have to figure out what.
2-Cube Escape: The Lake
The next episode in the series takes you to an abandoned cabin on an island inside of Rusty Lake.
You're opening gear includes a knife, a crowbar, and some fishing gear. This time you're playing a character named the Woman.
Again, you're trying to escape the room, which is a cube. As usual for the series, it's important to use every form of manipulation you have, such as defocusing, looking at odd angles, and so on.
3-Cube Escape: Aries
The third game is again, in the same genre with the same elements as the previous games.
It's also just like the other games in terms of platform. Most of them are free, using options like Android, Steam, and so on.
This time you're in 1888, specifically in the painter van Gogh's bedroom. This game references lots of pieces from van Gogh's life, and even mention's his friend Paul Gaugin, who was also a painter.
Find the clues, escape the room, solve the mysteries. This game is highly rated like many others of this game, with people saying that it's fun and challenging.
This series of games keep you on your toes. Few people are likely to imagine you will be exploring a dutch painter's bedroom in a plot like this one.
4-Cube Escape: Harvey's Box
This time you are playing as the parrot Harvey, who appears in previous games, which many players found to be an interesting change.
This game starts with you, like the parrot, being trapped inside of a cardboard box.
This is happening while you were being moved from the original Room to the Cabin in 1969. Your goal is to escape the box, and you have items and even the help of a pigeon to make sure that you can get out.
It's certainly quite a creative game plot you are unlikely to find elsewhere.
5-Cube Escape: Case 23
This episode has you playing as Dale Vandemeer again. You are now investigating the death of the character called the Woman.
You have to go get evidence items at the crime scene, figure out what you can from there, and then travel to a new location.
This particular game involves trying to find a way to unlock a doorway to Rusty Lake.
6-Cube Escape: The Mill
The fifth episode has you playing as someone named Mr. Crow in 1972. This game is also unique in that you are trying to create cubes this time, in order to use them in a strange way in relation to Rusty Lake.
You are still trying to move from room to room in this game, but you have more to do this time than just escape rooms. There are many keys and other items to collect to complete everything. The game is highly well received by many of the people who played it, especially on Android.
7-Rusty Lake Motel
This game is different from the others because it's not technically a direct part of the Cube Escape series.
Instead, it's a related, stand-alone game. It is set in the Rusty Lake area, however. This particular game starts in 1893 at a place called the Rusty Lake Hotel. This is on the island in the middle of the lake.
One thing that marks this game as different is that you have to prepare and make meals to give to guests here. You have to find the meat and then find the ingredients. You get stars for each meal you prepare.
8-Cube Escape: Birthday
Dale is celebrating his birthday in the year 1939, which is in his past when he was 9 years old. A guest who wasn't invited breaks into the party.
This game is fairly complex and involves taking an odd gift and changing their own past since you remember the birthday having a tragedy in it originally.
9-Cube Escape: Theater
You're playing as Dale again, and this time you are on an elevator at the Rusty Lake Theatre. You have to solve puzzles related to six different plays in this episode.
People say that the game can be quite difficult, but that it's satisfying when you finish it, even though you can get stuck at parts.
There are a lot of strange elements in this game like symbols on the moon. It has a heavy surrealist feel, just like many of the other games in the series, and it will appeal best to people who like stories that are related to each other more in ideas than it is straight-up conventional logic. It takes that kind of thinking to make it successfully through.
10-Rusty Lake: Roots
Unlike many of the other games that are more freemium, this one may have more of a small cost to it.
The game isn't officially in the Cube Escape line but is more related. You play as a character named James Vanderboom after he's planted a seed in the garden of a house he inherited.
You then have to go into the tree of life and unlock more portraits of people in your bloodline.
It's an easy game to get into, but it tends to be addictive and draw you in. There's a lot of puzzles in this game and it has a lot of stuff to explore as well as many different levels, including a strong soundtrack.
11-Cube Escape: The Cave
You're back to controlling Mr. Crow again, only this time he's exploring a cave and trying to escape areas here.
He's aiding other characters with getting deeper into the Rusty Lake. There are elements in this game that include bats, mirrors, microscopes, and more.
The game starts in the year 1972 in terms of how it fits into the storyline. The game appears to be quite challenging in terms of difficulty level.
You have to catch drops of water in one puzzle as they come off of stalactites in order to make patterns.
12-Rusty Lake Paradise
The Rusty Lake games tend to be distinct from the Cube Escape games, and this one is no exception.
It's set on a remote island that goes through the ten plagues of Egypt. There's a lot of focus on mood as the game creates a tone of excitement, mystery, and suspense.
The game changes perspectives again, and you're now playing a character named Jakob Eliander.
He's coming back to the island, called Paradise island after his mother passed. Her death was mysterious, and the island is going through plagues starting with when she died.
The game requires you to find access to the mother's hidden memories and perform rituals to make the plagues stop.
While you're playing, you move through each plague, and each one has its special feel to it, and the puzzle games will relate to it.
The backgrounds of pastel are hand-made by a Dutch painter so they are pretty striking. Each plague also has a song dedicated to it with other songs in each section related to that.
13-Cube Escape Paradox
The last current game in the series is the tenth. You're following Dale Vandermeer again.
This time he's lost his memories from one of his enemies and he has to solve puzzles to get out of the room he wakes up in and find his memories.
The game is related to a movie of the same name, Paradox. The game combines elements of the movies for the game.
Again, there are a huge number of puzzles in this game, and lots of interactions between the game and the movie. This game adds voice-overs where many of the other games didn't do that, so it's something new.
It looks like there's a second chapter specifically for this game out as DLC, so there might be even more in store.