The Naruto Shippuden is an anime Ninja game series that falls into the fighting genre mostly.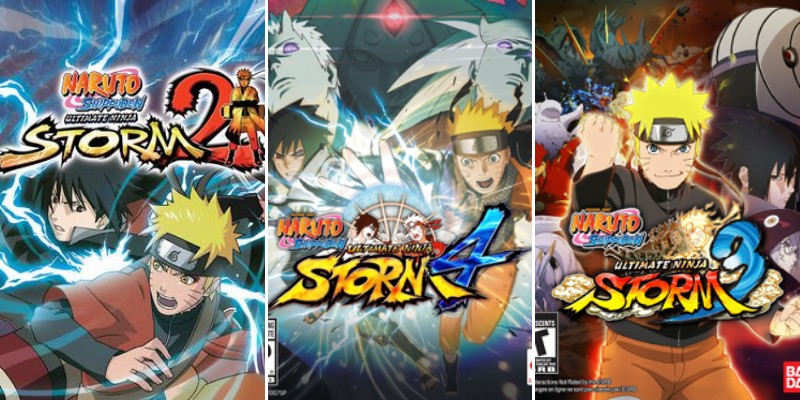 In this article you will find the top 6 Naruto Ninja Video Games in our opinion with brief description of each one, gameplay, what we liked etc.
1) Naruto Shippūden: Ultimate Ninja Storm 4
This was the sixth and final entry in the Ninja Storm series and it really went out with a bang for the Xbox One, Ps4, Windows PC, and Switch consoles.
Ultimate Ninja Storm 4 stood out from the crowd as an exceptional title with an exciting story that involves the fourth shinobi world war.
Naruto and Sasuke have to team up to take down a destructive terrorist organization.
This is a very freeing and fun title because players can switch between three different characters for a variety of battle options that keep it interesting.
The gameplay is similar to other titles where fights are staged in arenas with a developing storyline. You have the option to learn and tackle new abilities to hone your ninja skills!
2) Naruto: Ultimate Ninja Storm 1
This was a title that was developed by CyberConnect and was effectively published by the well-known Bandai Namco Games for the PS3.
This fighting game is heavily based on the manga series and stays true to the familiar storyline.
It's about Naruto striving to achieve a higher level of Ninja mastery and become the Hokage while facing some tough challenges along the way.
Enemies can be unforgiving on the harder difficulties, but this game offers you a fun progression with rewarding victories and story elements.
Ultimate Ninja Storm 1 introduced the concept of fighting in 3D environments which really brought things to a whole new level of prestige.
It also changed the way you tactically approach the game with new possibilities in combat.
The awakening mode was also implemented as a chance for players to retain their confidence and continue fighting even after they're in low health.
The story mode includes elements of the manga up to a certain point and the combat system is sharpened.
3) Naruto Shippuden: Ultimate Ninja Storm 3
This was a game released for PlayStation 3 and Xbox 360 by Namco Bandai Games in 2013 with widespread popularity.
In Ultimate Ninja Storm 3 you focus on fighting other rival ninjas and enemies along the way. Not only that, but the looming threat of the terrorist organization is always present as you endure new and tough enemies.
The reviews were generally very positive for this title and many were satisfied with the familiar elements like quick-time events and the ability to fine-tune the difficulty for more rewarding results.
Mob battles are also in this game which gives you a new way to play as you take on waves of enemies.
There are other side stories you can enjoy and the multiple modes give this title great replayability.
The plot is compelling and keeps you engaged with thrilling battles and dramatic story elements.
Sharpened gameplay mechanics make this a memorable title that keeps you engaged with satisfying combos that leave your enemies in the dust!
4) Naruto Shippuden: Ultimate Ninja Storm 2
This is the second title of the Ninja Storm series and it was incredibly memorable because it carries with it a nostalgic factor of the first Naruto game.
The awakening mode opens the doors for the Jutsus and special combos that will barely give your opponent any time to react or breathe.
This game features some true combos that can be exceedingly rewarding and fun for playing with friends or solo.
With the addition of support types and support drives, this title stands out with increased options.
You can choose between guard, attack, or balanced for the support types and this adds more versatility.
You can customize and command your support characters to give you the right amount of help to overcome various obstacles.
It's not free-roaming like the original and is replaced by a more standard JRPG experience.
Some of the bosses are impressive and fun to fight with some thrilling cut scenes that make them more memorable. The addition of online features is also convenient.
5) Naruto Shippuden: Ultimate Ninja Storm Trilogy
This is a great bundle that was conjoined for player convenience in a comprehensive title for PS4, Xbox One, Microsoft Windows, and Nintendo Switch.
This trilogy is worth considering because it contains enhanced graphics with the same memorable experience.
If you were a fan of the Ultimate Ninja Storm games then this is the right bundle to pick up with enhanced 1080p resolution.
The difference in graphics refreshes this beloved trilogy and keeps fans of the Naruto games playing to this very day! The legacy version actually features the Road to Boruto as well so you actually can get four games with this.
These titles carry with them a sense of continuity and they compliment each other well with similar elements.
Each game features new additions that give a new take on the series and make it a special experience.
It's especially convenient that you can play it on the switch now from anywhere, and many Naruto fans would be wise to take their Ninja training anywhere!
6) Naruto Shippūden: Clash of Ninja Revolution 3
This is the third installment into the Revolution Series and it was released for the Wii with popular admiration.
The Kazekage rescue ark is the main featured theme here and Naruto fans will be familiar with this. There are over 40 playable characters you can choose from and much different fun aesthetically pleasing environments to fight in to keep things engaging.
Wii multiplayer matches are possible along with co-op to test your skills against each other in a thrilling re-hauled ninja combat system that over-delivers and gives you impressive ninja powers.
During team battles, you have the ability to call for help from your teammate. There is also a comprehensive and detailed story mode that covers the basics of the rescue arc and brings it to life in the form of a game.
The scenes are in English and it's easy to spend hours getting absorbed into the Wii Mechanics that made this title really stand out among the rest. The Wi-fi multiplayer is also a great way to keep enjoying the game after accomplishing Ninja Mastery.
Image Sources
By The box/cover art can or could be obtained from Namco Bandai Games., Fair use, https://en.wikipedia.org/w/index.php?curid=47155954
By NeoGAF [1] via Game Informer, Fair use, https://en.wikipedia.org/w/index.php?curid=38212673
By casimages, [1], Fair use, https://en.wikipedia.org/w/index.php?curid=27052238