Video games about tennis have been around since the beginning of video games in general. After all, one of the first games, Pong, had this kind of theme.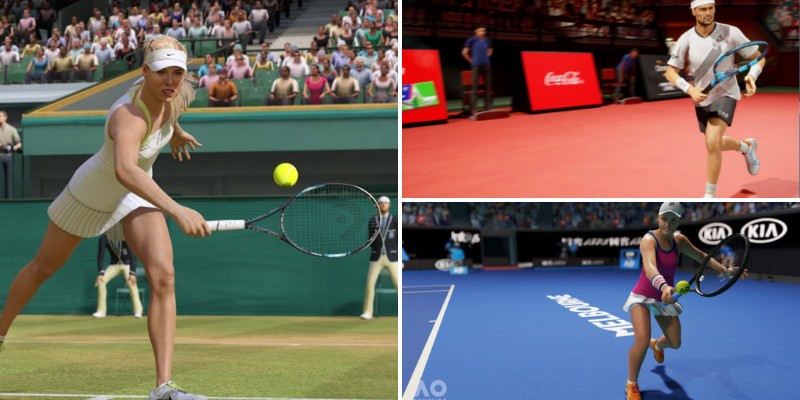 Tennis games have gotten more and more sophisticated throughout the years since then, but unfortunately there are not many options to choose from.
Here's some information about these games including the best 7 tennis video games in our opinion.
AO Tennis 2 is a cutting-edge tennis game with good realism and fun controls. This game is highly focused on realism and authenticity in general, including real players from venues at the 2020 Australian Open.
The game has the advantage of being developed with the AO organizers in on the loop.
The game came out in 2020 with multiplayer and co-op available. The game is playable on Nintendo Switch, PS4, Xbox One, and PC.
The game has a lot of sophisticated options in it, such as career mode, where what you do in the game directly affects what kind of sponsorship deals you get later.
There are many positive reviews for this game for a reason, it's one of the best tennis simulators you'll find, and a big upgrade from the original game.
Tennis World Tour is playable on Windows, Nintendo Switch, PS4, and Xbox One. In this game, you can play as one of thirty pro tennis players as you play your way to the top.
It has an emphasis on tactics including learning how to use different shots on different surfaces.
There's a career mode as well, but it's not as sophisticated as what you get with AO Tennis 2.
It does have a huge number of courts to try though, totaling 18. You can play on everything from hardcourt to grass, clay, and even odder stuff like hardwood or carpet.
This Top Spin game is a bit older, coming out 10 years ago, but it's still quite fun.
You can play it on PS 3, Xbox 360, or Wii. You can play it with the PS3 Playstation Move device if you like, as well as the standard Wii remote depending on the platform you're using.
The fourth Top Spin is certainly an improvement on the previous offerings.
Unlike some games, this one offers strategy suggestions that mimic what happens in a real game, such as when to attack or defend, going from serving at the baseline to volleying at the net and more.
The second Tennis World Tour game is not as good of a game as the first one, unfortunately.
The game doesn't do anything new compared to the first one. It's still a fun game that many people enjoy, but the first one was better received.
The game does have real serve mechanics, which allow real tennis players and fans to appreciate the realism, but some were disappointed with its general lack of different features from the first one.
You can help it out a bit by adding more DLC, but many found they were better off with the beginning title in the series.
For this one, you have to go way back to 2001 and the original dream cast. Still, it's hard a cult status for a reason if you like games that are a bit more retro.
Right from the beginning, this game has the fun feature of allowing up to four players, so that you can play a full doubles match all with your friends.
This is a big positive feature from the first one, and it's a fact that many games don't let you do this.
Virtua Tennis 2 is notable for being even better than the original one, which was already a big hit.
The game features the top 16 ranked male and female pros of the day, which include the usual top starts like Venus and Serena.
Every part of this game is fun to play, despite having decades only graphics. You play through a World Tour campaign where you play in all sorts of matches, including both doubles and singles, as well as training games.
You can unlock stadiums, and even make hidden players available where they weren't before.
The game has very intuitive controls, which makes it more fun to play as opposed to even some more modern games which can take a lot of figuring out.
It's worth starting by stating the obvious about how this game may not be for the hardcore tennis fans whose main concern is realism. After all, it's a Mario title.
Mario Tennis Aces game comes from a line of Mario Tennis games, and they are surprisingly fun.
Its main console is the Nintendo Switch. It quickly became of the games on Switch to sell the best.
The truth is that it's a fun game with all the colorful characters, and despite the more low-key approach, it's surprisingly strategic about how you have to play to get the win.
You also have plenty of multiplayer options, which is almost always great fun on Nintendo. This includes being able to play online.
Besides regular tennis matches, you can also play an adventure mode that lets you fight monsters with your tennis racket.
If nothing else, there are certainly few games quite like it. It's unlikely you've played many games where you have to complete tennis challenges on ice courts.
This game came out primarily for PS3 as well as Xbox 360. The control for this game is a bit different since you're using the right analog stick to control where the player's racket goes.
You can play the major four championships in this game including the most famous, Wimbledon.
The game can be a bit hard to learn with the Total Racket Control system. This is because playing with buttons is a lot more natural since so many other games do this instead.
Still, it's a unique system and the game will at least feel different than what you've played before with other options.