Released back in 2017 by Studio Wildcard, "ARK: Survival Evolved" drops players into an island filled with dinosaurs, a hostile environment, and the occasional hostile human.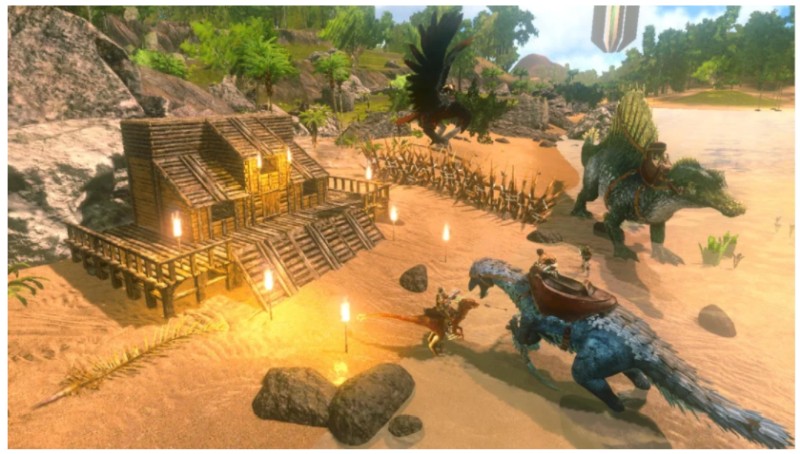 It's a survival action-adventure game that gives players an open world to explore as they adapt to survive. You can even play in first-person or third-person perspective.
It's seen massive success since its release with millions of copies sold worldwide. You can cooperate with others to survive in this new world, battle other tribes and train dinosaur companions to ride on as you build your home and craft weapons.
With both single-player and multiplayer options, many are wondering whether this game is cross-platform as well.
In this article we will answer the question if "ARK Survival Evolved" is cross platform and cross play so let's see the answers below.
Is "ARK: Survival Evolved" Game Cross-Platform Between PlayStation, Xbox, and PC?
Although "ARK: Survival Evolved" can be played on many different gaming platforms, it's not a complete cross-play or cross platform game.
This means that you can't simply jump into a server with friends that play on Xbox if you are playing on PlayStation for example.
However, there is a bit of cross-play with the Xbox One and Windows Store versions of the game. It is also cross-play among mobile players running it on Android and iOS devices.
Otherwise, there is no cross-play between PlayStation, Xbox, and PC players. It doesn't matter if you host your own server either as there is simply zero support for that at the moment.
Is "ARK: Survival Evolved" Cross-Play Between PS4/PS5?
Since there's a way for Xbox One and Windows store players to cross-play with each other, PlayStation players are also eager to learn if the same is said for them too.
If you play on PS4 or the PS4 version on the PS5, you're in luck. PS5 "ARK: Survival Evolved" players can jump into a server with PS4 players.
There may be some issues in receiving invites from PS4 players, but you can still join the server.
So, there is cross-generation capability of the game, in the sense that PS4 and PS5 players can play together.
On Which Platforms can you Play "ARK: Survival Evolved"?
Even if the cross-play is limited, you can still get your fix of "ARK: Survival Evolved" across numerous platforms. It's available on the following:
PS4
Xbox One
Nintendo Switch
Stadia
Windows
OS X
Linux
Android
iOS
Is "ARK: Survival Evolved" Free?
"ARK: Survival Evolved" is not free-to-play on consoles and PC. Currently, the standard edition for ARK is $29.99 while the Ultimate Edition is $59.99.
For mobile players, you can download the game free on iOS and Android devices. However, there are many in-app purchases that can scale up to $30.
You can play the game on mobile devices with ads, or you can purchase the Primal Pass monthly subscription that removes ads, gives an XP boost, and more.
What are the "ARK: Survival Evolved" System Requirements for PC?
If you want to run ARK on the PC, with the Minimum Requirements laid out below:
OS: Windows 7 or Windows 8
Processor: 2 GHz Dual-Core 64-bit CPU
Graphics: DirectX11 Compatible GPU with 1 GB Video RAM
DirectX: Version 11
Memory: 4000 MB RAM
Hard Drive: 20,000 MB Available Space
However, for the best experience, here are the Recommended Requirements:
OS: Windows 10 64-bit
Processor: Intel Core i5-4670K 3.4GHz / AMD Ryzen R5 1500X
Graphics: AMD Radeon RX 470 4GB or NVIDIA GeForce GTX 1050 Ti 4GB
DirectX: 11 Compatible Graphics Card
Memory: 8 GB RAM
Hard Drive: 60 GB