When Danish video game company IO Interactive released the first installment of its Hitman series in 2000, nobody could have predicted its success.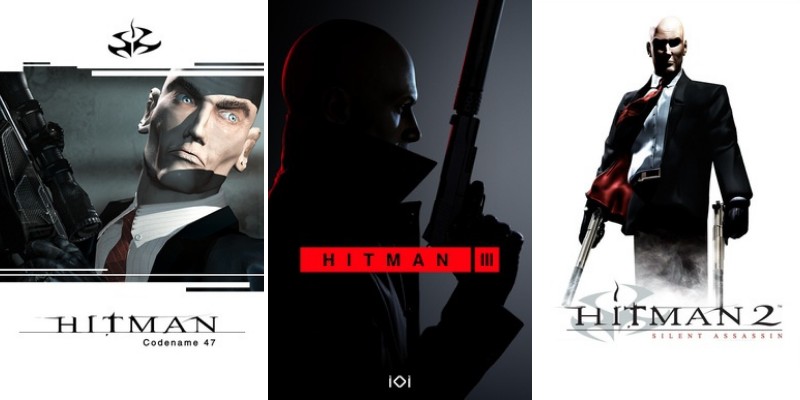 The series now spans ten titles and more than 20 years. Still, the franchise has certainly had its ups and downs over the years. Here's a look at the 10 Hitman titles in order of release:
Hitman: Codename 47 (2000)
The first Hitman title, Hitman: Codename 47, debuted on Nov. 19, 2000. Initially, Eidos Interactive published it exclusively for Microsoft Windows, but subsequent remakes made the game available for consoles as well.
Story line
In Hitman: Codename 47, players assume the role of Agent 47, a genetically-engineered, completely bald clone who is meticulously trained to be an organic killing machine. Throughout the game, Agent 47 finds himself eliminating formidable targets throughout South America, Asia and Europe.
Reception
Despite the title's relative success, it was by no means an instant hit.
Codename 47 received wildly mixed reviews; players enjoyed its dark story line and refreshing stealth mechanics, but the title was widely criticized for both its difficulty and its awkward, clunky controls. Nevertheless, Codename 47 sold half a million copies by 2009 and set the stage for the rest of the franchise.
Hitman 2: Silent Assassin (2002)
Eidos Interactive published the franchise's second installment, Hitman 2: Silent Assassin, on Oct. 1, 2002 for Microsoft Windows, PlayStation 2, PlayStation 3, Xbox and GameCube.
Silent Assassin was the first title in the series to offer a first-person perspective and corrected many of the flaws of its predecessor. Arguably, Silent Assassin secured the franchise's place as a real contender.
Story line
Silent Assassin's story picks up where Codename 47 left off. Agent 47 is now retired and has renounced the bloody business of contract killing. Instead, he is working as a gardener for a church in Sicily.
Agent 47 is thrown back into the business when a group of unknown villains kidnap the former assassin's only friend, Reverend Emilio Vittorio.
Lacking the $500,000 to pay off the kidnappers, Agent 47 reaches out to his former employer, the International Contract Agency (ICA), for help.
The ICA agrees to help Agent 47 on one condition: He must agree to come out of retirement and complete a series of contract killings. Said contracts find Agent 47 in such places as Afghanistan, India, Japan, Malaysia and Russia.
Reception
Unlike its predecessor, Silent Assassin enjoyed mostly positive reviews and overall commercial success. By 2009, Silent Assassin had sold 3.7 million copies worldwide, more than six rimes that of Codename 47. In the United States alone, the game earned an estimated $39 million.
Hitman: Contracts (2004)
Eidos Interactive released Hitman: Contracts on April 20, 2004 for Microsoft Windows, PlayStation 2, PlayStation 3, Xbox and Mac OS.
Unlike Silent Assassin, Contracts did not offer players a first-person perspective, which came as a disappointment to some players.
Story line
Hitman: Contracts begins about one year after the events of Silent Assassin. Agent 47 is gravely wounded during a job in Paris, and an ICA doctor is dispatched to treat the injury.
Before the ICA doctor can finish, however, officers with the Groupe d'intervention de la Gendarmerie nationale (GIGN), a real-life French elite police tactical unit, storms the hotel to take Agent 47 into custody.
After escaping the hotel, Agent 47 meets with his handler, who informs him that the ICA is being targeted by a group looking to eliminate them and seize control of governments worldwide. The rest of Contracts' plot follows Agent 47's efforts to eliminate this threat.
Reception
To say that Contracts did not enjoy the success of its predecessor would be an understatement; as of April 2009, the game sold only two million copies worldwide.
The game was praised by some for certain graphical and mechanical improvements but widely criticized for not having made any significant changes.
Hitman: Blood Money (2006)
Blood Money debuted in May 2006. It added some fresh elements that players enjoyed, particularly a rewards system that paid players more or less money, which players use to upgrade weapons or bribe authorities, depending on how "clean" their kills were during a given mission.
Story line
Blood Money's story line is sparked by a journalist, Rick Henderson, who visits former FBI Director Leland Cayne. Henderson brings to Cayne several documents proving the existence of Agent 47. This leads players down a rabbit hole of conspiracies and shadowy organizations that are hellbent on bringing down the ICA.
Reception
Despite its innovations, Blood Money wasn't much better received than Contracts, selling about the same number of copies by 2011. Although critics mostly praised the game's new elements, that praise did little to drive sales; apparently, Blood Money just wasn't what fans of the franchise were looking for.
Hitman: Absolution (2012)
Io Interactive took their time developing Hitman: Absolution, and Eidos Interactive seemingly bowed out altogether. Instead, Square Enix picked up the reins and published the the franchise's fifth installment in Nov. 2012, six years after Blood Money failed to bring the commercial success for which its developers had hoped.
Story line
In absolution, the ICA orders Agent 47 to dispatch his former handler, Diana Burnwood, who has defected for unknown reasons.
It is later revealed that the motive behind Burnwood's treachery is to shield a genetically-engineered girl, Victoria, from sharing Agent 47's fate. Upon learning this, Agent 47 decides to help Victoria, which leads to the ICA branding him a traitor.
Reception
Absolution did pretty well, selling just under four million copies. It may have done even better, but game-crashing bugs on both the PlayStation 3 and Xbox 360 consoles were widely reported and made some would-be purchasers wary.
Hitman Go (2014)
Leaving IO Interactive on the sidelines, Square Enix Montreal developed and published Hitman Go for iOS in April 2014 and Android in June 2014. Some argue, convincingly, that Hitman Go should not be considered a legitimate Hitman installment.
Story line and gameplay
With no real story to speak of, Hitman Go is a turn-based strategy game in the style of chess or maybe Final Fantasy Tactics. Players guide Agent 47 through various puzzles on a grid-based board, and the puzzles get harder and more complex as the game progresses.
Reception
Go was one of those love-it-or-hate-it titles, with hardcore fans of the Hitman franchise mostly dismissing it. Nonetheless, Go was nominated for several awards, including Best Mobile Game, at the Golden Joystiq Awards.
Hitman: Sniper (2015)
Hitman: Sniper, another mobile game, came to iOS and Android devices in 2015. Sniper turned out to be Square Enix Montreal's biggest moneymaker.
Story line and gameplay
Like most mobile games, Sniper was not particularly story driven. Players look through a first-person rifle scope and use their touch screens to shoot targets and objects. Many of the game's missions require Agent 47 to manipulate the environment to accomplish his objectives.
Reception
All in all, Sniper received pretty positive reviews. Most players enjoyed the game's use of sound to provide mission clues. On the other hand, many players were critical of Sniper's repetition and its slew of micro-transactions.
Hitman (2016)
In 2016, Square Enix published its second true Hitman installment, simply entitled Hitman. In many ways, Hitman sent the franchise in a new direction, making the protagonist into more of a suave, James-Bond type of character rather than a ruthless thug.
Story line
Unlike in previous titles, Io Interactive decided to let Hitman tell its story in an episodic way, with each level serving as a kind of self-contained simulation and having various subplots, some of which are not related to the main story at all.
In Hitman, Agent 47 is more professional and prestigious than in previous titles. In other words, Agent 47 and his missions are more grandiose and morally centered.
In addition to the main missions, the developers added "Elusive Target" missions, which players could only complete once. Players' inability to replay these missions made them tense and exciting.
Reception
Although Hitman fell short of Square Enix's sales projections, it was still successful, boasting more than 13 million players by May 2018.
The idea to make the game's levels larger and less linear was an extremely popular one, and Hitman was subsequently nominated for Best Action/Adventure Game at The Game Awards and named Giant Bomb's 2016 Game of the Year.
Hitman 2 (2018)
Warner Bros. Interactive Entertainment published Hitman 2 in Nov. 2018. The game featured eight missions on large maps in various locations. The gameplay is similar to that in most of the franchise's other titles: third-person gameplay in which Agent 47 must find stealthy and innovative ways to eliminate high-profile targets.
Story line
In Hitman 2, Agent 47 and the ICA must hunt an elusive shadow client, who is later revealed to be Lucas Grey. This objective sees Agent 47 eliminating targets in Europe, Miami, New zealand and other locations.
Reception
Hitman 2 was a hit, man. Indeed, the game has been widely praised and has already sold more than 5 million copies. Still being relatively new, it's likely that the final tally will be considerably higher. Hitman 2 was nominated for multiple awards at the National Academy of Video Game Trade Reviewers Awards.
Hitman III (2021)
IO Interactive published Hitman III on Jan. 20, 2021. Though the game has been out for less than a year, it's already a huge success.
Story line
In Hitman III, Agent 47 and his handler, Diana Burnwood, team up with Lucas Grey to dismantle Providence, a shady alliance of executives and industrialists with immense worldwide power and influence.
Reception
Hitman III has been the most successful title in the franchise to date. The title topped the UK charts and, according to IO Interactive CEO Hakan Abrak, has already outsold Hitman 2 by 300%.
Image credits
By Steam, Fair use, https://en.wikipedia.org/w/index.php?curid=22256919
By Steam, Fair use, https://en.wikipedia.org/w/index.php?curid=22255333
May be found at the following website: "HITMAN 3 Media Kit". IO Interactive. Retrieved 12 June 2020., Fair use, https://en.wikipedia.org/w/index.php?curid=64250152