The series of Batman Arkham video games is categorized in the open-world action-adventure genre and has sold over 30 million copies worldwide with raving fans.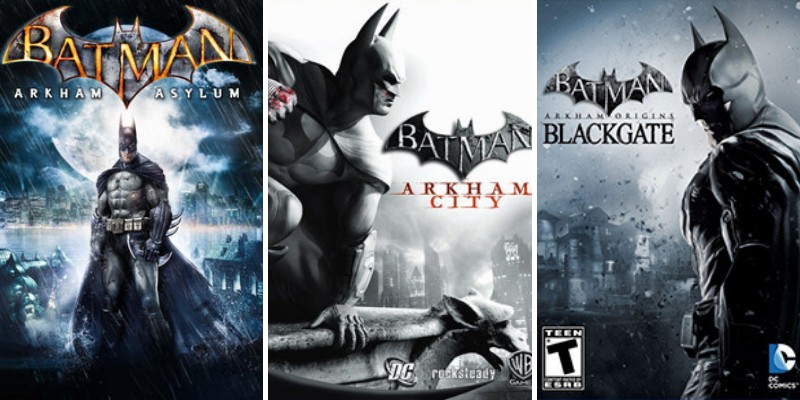 In this article we'll list all Batman Arkham games in order of release (which can be a good start if you want the order to be played as well), with brief description of each edition etc. Let's get started:
Batman: Arkham Asylum (2009)
To kick-off the Batman series we have Arkham Asylum where the walls seem to close in and things can go from safe to dire in a matter of seconds.
The game was released in 2009 and was among the first of many new Batman games that would take the world by storm.
The team at Rocksteady studios hit the ball out of the park with a masterpiece that speaks to the madness of Joker and a truly Claustrophobic atmosphere that continually presents new challenges to tackle as the dark knight!
This is the perfect place to start if you're looking for an adventure that is challenging and full of riddles. The Joker really cut out Batman's work for him here, but it's not anything he can't handle and you're in control!
Batman: Arkham City (2011)
Arkham City was released in 2011 for the Wii U, Xbox 360, Playstation 3/4, PC and MAC, with amazing results that would transcend the previous title.
Here you will find a title from Rocksteady studios that features a mega-prison the size of a city. This is the maximum-security prison that was old Gotham before it got revamped into something more threatening.
Here you are exposed to the criminal underbelly of the worst around. It's up to you like Batman to uncover the secrets of the warden and navigate through unforgiving terrain.
This title is more expansive than the asylum game and gives you more options to upgrade gear. The storyline is very innovative as you get engrossed in the experience that calls for your help in various situations.
There are actually a couple of different campaigns here to consider and many challenges to endure for Batman!
Batman: Arkham City Lockdown (2011)
This is a fighting game developed in 2011 which was realized by NetherRealm studios and makes for a solid experience if you're a fan of fighters.
It is essentially a take on the acclaimed Arkham city and sought to give users the first mobile Batman gaming experience which was incredibly exciting.
The setting is a few weeks before the occurrence of Arkham city but there is still underlying chaos that needs addressing. Batman is responsible for hunting down various notorious criminals who have conveniently escaped from the Asylum.
This game features the game center so you can expect the highest quality graphics and gameplay. This is a beloved title that has a place in the hearts of many due to the versatility between platforms.
It's a comprehensive fighter that will expose you to crime and give you a taste for serving out justice. Play as Batman to detain all escaped convicts throughout Gotham!
Batman: Arkham Origins (2013)
This was a Batman game released in 2013 and developed by WB Games Montreal. Here you will find that the beloved hero isn't as skilled as you might be acquainted in past games.
You will discover what it means to refine your role as the dark crusader as you tackle the challenges of Black Mask. A bounty is placed on his head and this increases the pressure overall in the game.
The game play is exceptionally interesting because it caters to the open world crowd. There are many discoverable items to collect and ways to upgrade your equipment efficiently.
Along with that, you will be able to use the most famous technology from the series such as the Batarang. Virtually reconstruct crimes and play them over again in Arkham origins for hours of detective fun.
Takedown criminals with the latest moves to incapacitate foes for the long term!
Batman: Arkham Origins – mobile (2013)
This is a very fun free to play Batman experience that is convenient for mobile devices. The features here include advanced touch combat mechanics that are easy to understand from your mobile phone.
The graphics are superb here by comparison to the past and you will notice that it's a spin-off of the series. It's a quaint and delectable part of the overall Arkham games and gives a great mobile experience that was lacking before it came out.
This game definitely filled a void where you might miss playing as Batman when away from a console or computer. This mobile entry into the series gave players a fresh view of Batman with an arcade-style fighter that brought something new to the table.
It's still a viable mobile option that keeps you engaged with an intuitive combat system that places heavy emphasis on the action.
Don't forget about your special attacks! They come in handy when dealing with difficult boss battles and make progression much easier.
Batman: Arkham Origins Blackgate (2013)
This is a unique side-scrolling game that was developed by Armature Studio and successfully published by Warner Bros Interactive entertainment.
It is considered to be an additional complimentary game to the Origins series and is definitely worth listing here as one of the staples.
Here you will play as Batman and seek to stop an aggressive prison riot. This isn't just any gathering though because all of the supervillain crime lords you've adored over the years are here to give him a real challenge.
This is also a great part of the series because Blackgate gives you insight into the first entanglements with Catwoman who is a fan favorite.
Villains include the Joker, Penguin, and Black Mask, all of which are formidable foes to contend with. Batman definitely has his work cut out for him in this title There is a very organized free-flow combat system here that is fluid and rewarding.
Batman: Arkham Knight (2015)
This is yet another entry into the series with Arkham knight which is an incredibly action-packed finale to the series. It was also developed by Rocksteady Studios and is the fourth and final main installment.
Here you will take on the role of Batman as you fight against the deadly and toxic Scarecrow. He seeks to gain control over the city through fear and intimidation and here you will see Batman pushed to his absolute limit.
This is a thrilling ride with many plot twists and surprises that are worth the struggles. The combat in this game is particularly engaging across all terrain.
When you're not beating up bad guys, you're strategically using the bat mobile to your advantage to tackle the toughest situations.
The world can be explored freely or you can tackle specific objectives all while growing your abilities and saving Gotham from the depths of fear and doubt.
Batman: Arkham Underworld (2016)
This is a unique game developed by Turbine to give a new spin on the Batman games and offer you a fresh mobile experience.
Here you will find that playing as Gotham's most wanted criminals can be a rewarding time as you climb the ranks to success in Heists.
It can be a repetitive experience to constantly take out enemies as Batman. This mobile title gives a fresh take on the series and allows you to experience a life of crime through the eyes of Gotham's most sadistic criminals.
You will be exposed to familiar faces though including the caped crusader himself. The gameplay here is surprisingly rewarding as you can train your thugs to get stronger and grow your criminal empire.
One detail worth noting here is that this is the first game that doesn't have Joker as one of the main components of the plot which is refreshing.
Batman: Arkham VR (2016)
This is a virtual reality adventure game that features Batman in virtual reality for an increasingly memorable experience. Here you can experience what it feels like to be the Dark Knight first hand and tackle the challenges of Gotham through his eyes.
This first-person experience empowers you to interact with objects around the world and realistically use all the most advanced gadgetry to progress.
The forensic scanner is particularly useful and gives you the most details about any given room so you can solve the crime. This is a distinct title because the central focus here is solving puzzles and progressing instead of engaging in thrilling combat.
This subdued and subtle approach to the series is a breath of fresh air and encourages critical thinking skills. As you can imagine, the Riddler is featured in this game and gives Batman a series of puzzling situations to contend with.
Gotham Knights (maybe in 2022)
WB Games Montreal won't disappoint with the anticipated Gotham Knights title which has a central focus on the family of Batman.
He is perceived to be dead in this game and it's up to the family to effectively fight crime and keep the city safe from those who wish to harm it.
As we have observed from the past, there is always a new super-villain on the street seeking to take control. The streets of Gotham are a mess and full of crime after the death of Batman, and it's up to the Batman family to mitigate these factors.
The game will feature an online co-op for two players where you can play as Robin or Batgirl. This seems like a great opportunity to let the other characters shine for once and enjoy the spotlight.
There will be many alternative costumes and customization options to consider along with a thrilling game play experience!
This will be a fun title as it will expound on the Batman Family lore and give insight regarding the apparent death of Batman. There is also a Mister Freeze campaign that many are anticipating as he is a favorite character.
Image Credit
By May be found at the giantbomb website, Fair use , Link
By Amazon, Fair use, Link
By IGN , Fair use, Link