Borderlands 3 is an undeniably impressive game. It took the already popular Borderlands setting into an even wilder and more artistically creative direction.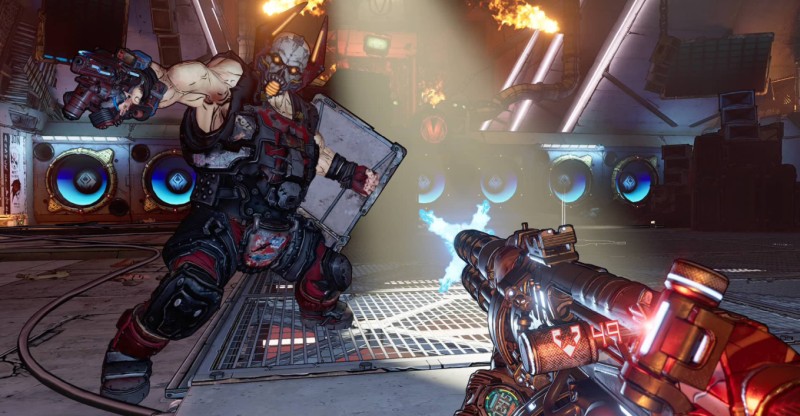 The franchise's fast action and focus on multi-player shine brighter than ever in its third main entry.
However, the fact that it excels in multiplayer makes a lot of people wonder about cross play.
Borderlands 3 excels when you're playing with friends. But will it let you play with all of your friends, or will it limit you to those playing on the same platform?
The answer is a little more complicated than you might expect. This is in large part due to the number of platforms Borderlands 3 is available on.
You can play it on almost every modern platform. But you can't always play it with people on different systems.
Is Borderlands 3 Cross Play / Platform on Xbox, PC?
PC and Xbox releases tend to have a high chance of cross play. After all, Microsoft is the driving force behind both the PC and Xbox.
You can't always assume that the PC and Xbox releases of a game will support cross play though. But it tends to be fairly common.
And, in fact, it is the case for Borderlands 3.
If you're on a PC you can play Borderlands 3 with friends on the Xbox. Likewise, if you're on the Xbox you should be able to play with friends on PC.
So, yes Borderlands 3 is cross play / cross platform between Xbox and PC platforms.
Unfortunately, there is one big caveat to this rule. The cross play on PC is tied to specific game stores.
This means that if you bought your copy of Borderlands 3 on Steam or the Epic Game Store you'll have no problem connecting with Xbox players.
But PC Borderlands 3 players who bought the game in any other way are out of luck. If you bought the PC version of Borderlands 3 through any method other than Steam or the Epic Game Store then you won't be able to the access cross play feature.
Is Borderlands 3 Cross Play on PlayStation Consoles?
June 24th, 2021 was a big day for most Borderlands 3 fans. It was the day when cross play was opened up to a large number of platforms.
However, one large group was left out of the cross play update. PlayStation users were disappointed to find that they couldn't match up with friends on non-PlayStation systems.
However, that doesn't mean there's no cross play on PlayStation. There is one form of cross play available for PlayStation owners. However, it's only between Sony's own consoles.
PlayStation 4 and PlayStation 5 owners can play Borderlands 3 together.
However, PS4/PS5 console users are not able to play together with other platforms such as Xbox and PC.
Is Borderlands 3 Cross Platform Between PS4 and Xbox?
The PlayStation 5 is the most current iteration of Sony's console. But that doesn't mean the PlayStation 4 has disappeared.
The PS4 was a tremendously popular console that still has a legion of devoted fans. And a lot of them have wondered if they might be able to play Borderlands 3 with friends on the Xbox.
Unfortunately, at the moment that's not possible. Like the PS5 version of Borderlands 3, the PS4 version can't connect players with those running the game on their Xbox.
Why does PlayStation not Allow Cross Play for Borderlands 3?
The lack of PlayStation cross play in Borderlands 3 has raised a lot of questions. It would be one thing if cross play wasn't available for other platforms.
But people are sure to raise an eyebrow when Stadia seems to be receiving better support than the PlayStation.
It's understandable that PlayStation owners have wanted an explanation. However, there's been some good news and bad news in that regard.
The bad news is that there's still little in the way of an official explanation for PlayStation's absence in the larger cross play update.
Randy Pitchford, president and CEO of Gearbox Software, has mentioned that they had to "remove crossplay support for PlayStation consoles".
This suggests that the net code might have been viable and ready to connect PlayStation consoles with players on all of the other systems.
The underlying reason why this code never shipped is still a mystery. However, there is some speculation that it might have something to do with additional licensing costs from Sony.
It's important to keep in mind that this is only speculation. All signs suggest that the full story behind the cross play removal will remain a mystery.
The good news is that publisher, 2K, has issued a recent announcement that cross play will eventually be coming to the PlayStation 4 and PlayStation 5 after all.
There's still no precise estimate of when that's going to happen. 2K only stated that it will come "in the future".
So it looks like PlayStation users will be able to join in the cross play fun with people on all the other platforms. It's just a little up in the air as to when that's going to happen.
Nobody knows exactly why PlayStation was initially left out of cross play. And there's been no official statement explaining why that's going to change.
However, the reversal on the PlayStation crossplay decision might have something to do with the Borderlands spinoff "Tiny Tina's Wonderlands" launching with cross play support on PlayStation.
It's certainly good news no matter what the underlying reasoning might be.
For the moment PlayStation users are still left with no cross play options if they want to play with friends on non-PlayStation hardware. But that won't be the case forever.
On which Gaming Platforms can you Play Borderlands 3?
Cross play in Borderlands 3 is particularly impressive given the sheer amount of platforms it's been ported to.
The game was initially released on Windows, PlayStation 4, and Xbox One. A macOS and Stadia port would follow within a few months of each other.
And not too long after those ports the Xbox Series X, Xbox Series S and PlayStation 5 would receive their own versions. At this point the only major platform without a port of Borderlands 3 is the Switch.