Everyone is familiar with the Call of Duty (CoD) franchise and there are many of them to play. However, you may be wondering where a good place to start would be in this sea of shooters.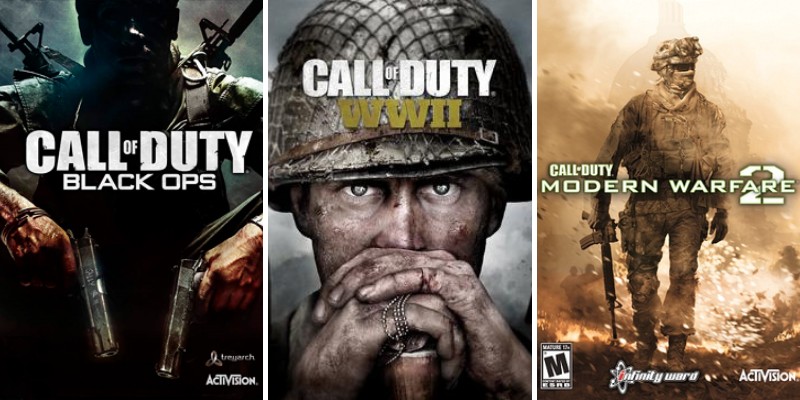 The series has changed over the years for the better, but there are still some older gems that have stood the test of time.
Call of Duty has touched the hearts of gamers of all ages around the world for years with great success.
Here you will discover the top 7 highlighted games (according to our opinion) out of the many that have been released.
This is an excellent starting point with classics that have fueled countless hours of memorable gameplay!
#7. Modern Warfare 3
Modern Warfare 3 was a memorable experience for the running gunners and snipers alike with a balanced weapons system.
The gameplay was very much the same concepts as the other Modern Warfares with more modern weapons and innovative killstreaks.
It was a very fluid version of Modern Warfare 2 but didn't have the exact same feel.
There is a thrilling campaign to experience here and it's rather violent and emotional at times which pulls you into the story.
Modern Warfare 3 has an interesting cooperative mode where you can fight endless waves of enemies together for a thrilling battle.
Each wave becomes stronger and harder to deal with. This might be compared to the classic Zombies mode commonly found in Call of Duty games.
However, you will find a much more tactical experience here with enemies that spawn according to your position.
Point streaks are a little more difficult to earn in this title which is good for balance.
There are some excellent weapons in all classes and a special ops mode that exposes you to more fun challenges to keep things fresh.
The Call of Duty Elite service was also offered for Multiplayer gamers of this title.
#6. Modern Warfare 2
Modern Warfare 2 is a Call of Duty title that was brilliantly developed by Infinity Ward and published by Activision.
Many COD players to this day contend that the second Modern Warfare game is the best in their minds and that's for good reason.
It was superbly developed with a campaign that places you right in the action of Task Force 141 to execute dangerously thrilling missions.
The multiplayer experience of Modern Warfare 2 is the most fun of the series because of the fast-paced action and memorable weapons that are satisfying and effective in downing targets quickly.
During the campaign, you cycle through five different characters to gather new perspectives as the story unfolds. This is a unique way of storytelling that keeps you on the edge of your seat guessing.
Modern Warfare 2 was formed with the help of a more comprehensive engine than Call of duty 4 and was a vast improvement.
It certainly stood out at the time as a more advanced gaming engine. This game was particularly good for quick scoping and assault rifles were very stable overall.
#5. CoD: Ghosts
There have been mixed reviews about Ghosts, but I still hold it to be one of the better Call of Duty titles out there because it embraces effectiveness and simplicity.
Ghosts also featured some incredible weapons like the versatile Honey Badger with an in-built silencer that allowed for an extra attachment without a perk.
Small innovations like this quickly add up and this game has plenty of them. Sniping is a bit slower here but still acceptable.
This is truly an SMG-friendly game with a lot of close-quarters combat across the varying maps. The Killstreaks are especially unique here with the ability to control and eradicate enemies with a helo pilot or operate a Gryphon drone to shoot missiles at enemies and equipment.
The tactical nature of Ghosts is often overlooked, but it is a very solid game when further examined. Ghosts also has an interesting mode called Extinction where you hunt aliens and progress through stages.
This is very distinct from the traditional Zombies experience and will yield a greater challenge that requires more awareness and teamwork to thrive. It's a great multiplayer mode to enjoy that is outside the norm.
#4. Call of Duty WW II
World War 2 is a game that students could be assigned to play and write a report about for a school paper.
It's informative about the raw violence, politics, and history surrounding the personal experiences of soldiers from the WW2 era.
The campaign does an excellent job at expounding upon the gruesome realities of the war and the story is very crisp with the right amount of drama.
This title features some interesting new game modes when it comes to Multiplayer including headquarters and War.
This game puts emphasis on what is known as divisions when it comes to the class building system. You can choose according to your playstyle and it's very fun to have more options available.
Some of the divisions include Infantry, Airborne, Armored, Commando, and a few more to choose from.
You will also find a whole new take on the Nazi Zombies multiplayer game that parallels the theme found in Call of Duty World at War, which was also set in the WW2 era.
What's nice about this zombies mode is it helps out new players more with hints and guides you better so you can jump in easier!
#3. Black Ops 3
This is one of the strongest titles in the series because it's the culmination of a lot of fine-tuning over the history of the black ops series.
The campaign in this game is unique because you can actually play it in coop with up to four players. There are increased customization options to keep things fresh and stylish.
The token system is fun as you progress because it allows you to unlock new viable items that enhance your effectiveness on the battlefield. The multiplayer is highly futuristic with a momentum -bases movement system that changes the dynamics entirely.
This results in unpredictable and teeth-grinding gunfights that are epic with the adaptable terrain.
You can use the jumping thrust to access new heights and give yourself an advantage against campers. There are nine different cool soldiers to choose from with a unique power that can do some incredible damage.
These are known as special abilities which are greatly feared. The new gunsmith feature allows for more flexibility when it comes to modifying your weapons.
Black ops 3 has the revamped zombies from the original Black Ops games so this is an excellent Zombies experience with classic and new maps to enjoy!
#2. Black Ops 2
The campaign in Black Ops 2 was unique at the time because it was the first to feature an intricate storyline that branches out and gives a more enriching tale.
These were commonly known as Strike Force Missions where you were tasked to complete a certain objective and then it switches to another story element.
These missions give you the ability to control some exciting and epic vehicles that will drive you over the limit to eradicate the toughest challenges. The main story missions include the ability to customize your loadout before any shootout for a tactical approach.
Throughout the story, you will make choices that influence the result and there are different endings depending on what you choose. This means that replayability for Black ops 2 I felt the campaign was well-crafted.
The multiplayer is also interesting with the pick 10 system where you can choose your gear with more freedom. You earn scorestreaks with points to unlock special abilities or gear.
This was the first title in the Call of Duty Franchise to release league play which was significant for those who take it more seriously.
Zombies in Black ops 2 was also incredibly enjoyable even if there might have been one or two maps that were difficult to navigate.
#1. Call of Duty Black Ops
Black ops is where Call of Duty really started to change and take a step in a different direction for the better.
I don't list it here just because it has a wonderful sense of nostalgia, but because it has one of the best campaigns in Call of Duty History.
The twists and turns while following Alex Mason are incredibly interactive and fun. You will enjoy a chilling experience here that sets the stage for the Black ops series.
Multiplayer is decent but definitely isn't perfect. The weapons are classic to this title and players have spent many hours on maps like Nuketown or Firing Range.
Black ops will forever be cemented in the hearts and minds of gamers because it added a darker twist on war and opened the door for various discussions on conspiracy.
It is very rich in history and will teach you a lot about the cold war. This is the game where Zombies mode really started to thrive with new extraordinary maps like Kino Der Toten and Five.
The original Black Ops title still stands as one of the most acclaimed in the Call of duty series because of its rich storytelling and memorable weapons from Zombies and Multiplayer.
Image Credits
Fair use, https://en.wikipedia.org/w/index.php?curid=27419855
By The box/cover art can or could be obtained from Activision., Fair use, https://en.wikipedia.org/w/index.php?curid=53892617
By http://www.activision.com/index.html#presscenter, Fair use, https://en.wikipedia.org/w/index.php?curid=26243094